Book Review | The Lore of Prometheus | By Graham Austin-King
BBNYA 2020 Winner | UltimateBlogTour | Fantasy thriller
John Carver has three rules: Don't drink in the daytime, don't gamble when the luck has gone, and don't talk to the dead people who come to visit. It has been almost five years since the incident in Kabul. Since the magic stirred within him and the stories began. Fleeing the army, running from the whispers, the guilt, and the fear he was losing his mind, Carver fell into addiction, dragging himself through life one…

My thoughts
The Lore of Prometheus is as engaging as a spy thriller that has you on edge till the end. The story is narrated by both Carver and McKenzie – the two main characters.
The book takes its time to establish the characters and then slowly tightens the ropes. Towards, the second half it switches gears in terms of pacing and it is hard to put down at that point.
Normally, I am apprehensive about reading or watching fiction where the main character talk about Afghanistan or Pakistan as some place where only the ones with grit could go. Back at home, they still have a choice. You see, as someone from this side of the globe, that is not the case. Of course being in India, I kind of fall into the lucky border, but still these countries are our neighbors. The idea that a British army or any Western army came up marching into these regions and screwed things up hits closer to home.
 Perhaps, it is the anti-imperialistic gene in me, I did feel squeamish when the characters talk about the West's regret over what happened in these places. However, the book makes up for this by placing an analogy that is too hard to miss. And for that I loved this book.
The two main characters – John and McKenzie have a well defined character arc. John's first appearance at McCourt's office and the last itself points this out, physically. McKenzie starts her journey as this helpless nurse in captivity and emerges out as a formidable force to reckon with. Carver's visitors keep things interesting even at the oddest time.
As for conflict, the quest for forbidden power and the madness that accompanies it, could not be revealed any more accurately than this. The justification of the means to get there and how our own minds rationalize these thoughts. There are so many layers with that kind of analogy if you take a closer look. 
In short, The Lore of Prometheus is an engaging urban fantasy thriller from the start to the very end. It takes on quite a trip from the shady streets of London to the deserts in Kabul. And for some reason, I kept thinking of Carver as Chris Evans. Now, all you need is take that thought and read the book  especially if you're into the whole Marvel universe thing. 
---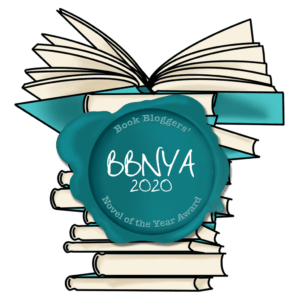 BBNYA is a yearly competition where book bloggers from all over the world read and score books written by indie authors. It is organised by @TheWriteReads in association with the Folio Society. 
I received this book in exchange for an honest review as part of the BBNYA  2020.