Book Review | The Cousins | By Karen M McManus
TheWriteReads Ultimate Blog Tour
Milly, Aubrey, and Jonah Story are cousins, but they barely know each another, and they've never even met their grandmother. Rich and reclusive, she disinherited their parents before they were born. So when they each receive a letter inviting them to work at her island resort for the summer, they're surprised . . . and curious. Their parents are all clear on one point--not going is not an option. This could be the opportunity to…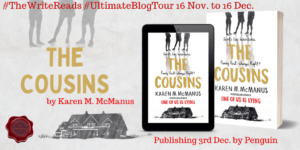 Narrative and Plot
The Cousins as indicated by the title, is told mostly by the three first cousins – Milly, Aubrey, and Jonah. Even if there are other narrators, these are the characters who become the eyes and ears of the reader. Let me warn you in advance, this is a slow burn mystery thriller. I read it in my Kindle and by the time I hit 50%, most of my questions remained unanswered. But the wait is worth it for the unraveling.
The plot is simple, to say the least. It gives you enough to hook you but doesn't reveal too much. Somehow, the plot has that old school feeling where things are twisted but not too much that it feels unreal. At times, mystery thrillers tend to go there in order to achieve an unpredictable twist. But here the story and narration lend itself to remain unpredictable for the most part.
The Cousins are our main characters and each one of them has a distinct personality. Milly is an instantly likeable character as far as the reader is concerned. Her thoughts are witty, charming and honest for the most part. Jonah and Aubrey grow on you as the story progresses.
The Gull Cove Island in itself stands as a towering character throughout the story. I read a thriller recently, which, again took the same premise of misfits getting together on an island. Sadly, the book went onto to become a bit predictable for me.
Here though, the air of mystery feels more genuine and the characters' interests seems believable. The island and its inhabitants have this air of darkness throughout. It feels chaotic but there is an order to every chaos. The story takes its sweet time to reveal itself but the characters are intriguing enough to keep going. Every single character is placed in a calculated way throughout the story.
There are a few trigger warnings in the book. So please make sure you're aware of it before going into this.  The climax however, focused mostly on one cousin and sidelined the others which is kind of a let down after the journey they all had. Still, it doesn't take away much from the overall plot.
The Cousins is a  straightforward old fashioned compelling mystery thriller that gives a poetic  justice to the Story. I would definitely recommend it if you love a good mystery thriller set on a remote location.
---
Disclosure :  1) I received an e-copy of the book from @TheWriteReads , in exchange for an honest review for #thewritereads #ultimateblogtour.  Thank you TheWriteReads, Karen M McManus and Penguin Platform for making me a part of the #blogtour.
 

              2)This website uses affiliate links. This is not a paid promotion but Bookbugworld will earn a small commission if you click on the link for purchase.