It Happened One Summer | By Tessa Bailey
Book Review | Contemporary Romance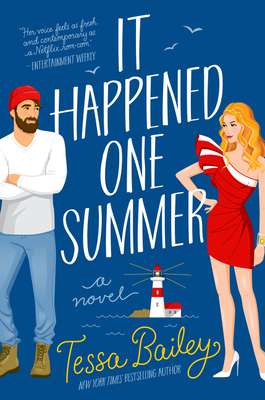 Tessa Bailey is back with a Schitt's Creek-inspired rom-com about a Hollywood "It Girl" who is cut off from her wealthy family and exiled to a small Pacific Northwest beach town... where she butts heads with a surly, sexy local who thinks she doesn't belong. 
It Happened One Summer is your typical beach read with light-hearted hate-to-love romance. It isn't flashy or deep. The book delivers what it promises, i.e. an adorable yet steamy romance in a fishing village.
The story alternates between Brendan and Piper, the two protagonists. The narrative really helps to establish who the characters are and where they are coming from. It sets the right tone and before you know it; you are in Westport watching these two opposites falling for each other.
It is refreshing to see that the main characters are set in their ways yet willing to open up about their feelings.
Even though it was unintentional, Piper opens up about her insecurities to Brendan more than she does with anyone else, even her sister Hannah.
Brendan himself is a headstrong man who is ready to face the fears head-on right from the beginning of the story.
All these positive aspects are the reason why the final conflict fell short. It goes against the character arc of the protagonists, making the conflict look forced. The writing and the pacing create an engaging read, but the conflict doesn't really fit the rest of the plot.
The whole subplot with Hannah and Fox seems to be a perfect hook to rope you in for the next book. In case you were wondering, all those cheesy puns above were intentional.
It Happened One Summer is a cosy light-hearted beach-read romance novel. It is a book that you can curl up with and read in a single afternoon. This one is a one-time read for me, but the acknowledgement indicates that the author intended it to be a sweet romance that you can just escape into. In that regard, the book meets its purpose. 
---
This website uses affiliate links.