Bookbugworld's October Wrap Up | 2022
Dear Bookbugs,
I stopped doing Wrap-Ups for a while now because I don't usually complete all the books on my TBR. This time isn't much different but at least I have covered a decent amount of my monthly TBR. Surprisingly there had been more than one five star rating last month. Here are the few books that I read in the month of October.
1)Rising Shadows – The Pillar Of Creation by Phillip Blackwater
I read this book for TheWriteReads blog tour. Rising Shadows is a fantasy, the first in the Pillar of Creation series. The book is set in a world which is divided into several kingdoms. Out of which, only Elves possess these shards of creation. The book follows the Human general Wariel and the band of misfits that he forms during the course of his journey in search of a demon who is eyeing the most powerful of these shards. I enjoyed this book. It was alright. However, the book merely serves as a setup for the upcoming books. This was a one time read for me. I rated it a 3/5.
2)Finlay Donovan is Killing It by Elle Cosimano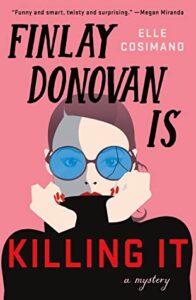 I am a big fan of Sophie Kinsella books. The rom-com heroine and the comedy of errors that they get into due to that one stupid decision they make always makes up for a fun read. I went into Finlay Donovan expecting the same and it didn't disappoint. Although, I have always had a problem with books that use coincidence over and over as a plot device. Other than that, I enjoyed this book and rated it a 4/5.
4) Home Before Dark by Riley Sagers
Home Before Dark by Riley Sagers has been on my reading list for a long time. I was saving it for October and I am extremely happy that I did. It spooked me but only in that mild way that like. I don't read horror fiction because it freaks me out. Home Before Dark had that perfect balance where it is not too spooky, but it does get you invested enough to turn the pages. If at all I had to pick something, it would be the similar story pattern to Final Girls. The going back in time to find the truth is completely different from the Final Girls and I was fully onboard with it. I rated this one a 5/5.
5) The Miraculous Sweetmakers : The Frost Fair by Natasha Hastings
The Frost Fair is a middle grade fantasy that I read for yet another TheWriteReads blog tour. It was quite an unexpected read. The book deals with several issues, including grief and the loss of a loved one. Even though it is meant for the middle-grade audience, the book deals with those sensitive topics with maturity and yet keeps things simple enough. I enjoyed it and rated it a 5/5.
6) The God of Small Things by Arundathi Roy
My heart sores at the thought of this book. Which is why I have decided not to post a review for this one. I know for sure this book is going to stay with me for a lifetime. ( No Locusts Stand I ) It tugged on to my childhood memories that I had treasured, even away from myself, to keep their sanctity. It brought me so much joy and at the same time it brought despair and pain, which is very real. Being who I am and where I come from, this one hit too close to home. As far as a review goes, it is a Booker Prize winner and rightfully so. The world, the characters are all quite relatable to me on a personal level. I would say, it is one of those must read books. My rating is obviously 5/5
Those are all the books I read in the month of October. Let me know your thoughts in the comments if you have read any of these or if you wish to do so. I would love to hear from you.
Happy Reading Everyone!!
---