BBNYA Semifinalist Spotlight Tour | 22 Nov 2022
Dear Bookbugs,
This year, the Book Blogger's Novel of the Year Award (BBNYA) is celebrating the 50
books that made it into Round Two with a mini spotlight blitz tour for each title.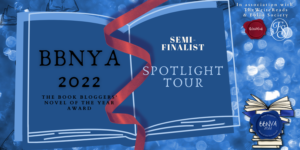 I am trying my best to be a part of this spotlight blitz. Today's BBNYA semifinalist spotlight features the book named 'Don't Think a Single Thought' by Diana Cambridge. 
Blurb :
1960s New York, and Emma Bowden seems to have it all – a glamorous Manhattan apartment, a loving husband, and a successful writing career. But while Emma and her husband Jonathan are on vacation at the Hamptons, a child drowns in the sea, and suspicion falls on Emma. As her picture-perfect life spirals out of control, and old wounds resurface, a persistent and monotonous voice in Emma's head threatens to destroy all that she has worked for…

Taut, elegant and mesmerising, Don't Think a Single Thought is a captivating exploration of mental health, of women's place in society, and of the inner workings of a picture-perfect marriage.
About the Author
Diana Cambridge is an award-winning journalist. She has written for many national newspapers and magazines, gives regular writing workshops, and is a Writer-in-Residence at Sherborne, Dorset. She was Agony Aunt to Writing Magazine. She lives in Bath.
If you are interested in this particular historical fiction, give it a try. You can find it on all the popular online platforms.
Amazon: https://www.amazon.ca/Think-Single-Thought-Diana-Cambridge-ebook/dp/B07V5RHX8L (Canada)
https://www.amazon.com/Think-Single-Thought-Diana-Cambridge-ebook/dp/B07V5RHX8L (USA)
https://www.amazon.co.uk/Think-Single-Thought-Diana-Cambridge-ebook/dp/B07V5RHX8L (UK)
Goodreads: https://www.goodreads.com/book/show/45482123-don-t-think-a-single-thought
Happy Reading Everyone
---