BBNYA Semifinalist Spotlight Tour | 18 Nov 2022
Dear Bookbugs,
This year, the Book Blogger's Novel of the Year Award (BBNYA) is celebrating the 50
books that made it into Round Two with a mini spotlight blitz tour for each title.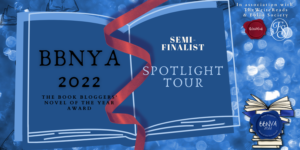 I am trying my best to be a part of this spotlight blitz. Today's BBNYA semifinalist spotlight features the book named 'Blood of Heirs' by Alicia Wanstall-Burke.
Blurb :
How far would you go into the darkness to reclaim what you have lost?

Lidan Tolak is the fiercest of her father's daughters; more than capable of one day leading her clan. But caught between her warring parents, Lidan's world begins to unravel when another of her father's wives falls pregnant. Before she has time to consider the threat of a brother, a bloody swathe is cut through the heart of the clan and Lidan must fight, not only to prove her worth, but simply to survive.

Ranoth Olseta wants nothing more than to be a worthy successor to his father's throne. When his home is attacked by the aggressive Woaden Empire, Ran becomes his city's saviour, but powers within him are revealed and he is condemned to death. Confused and betrayed, Ran is forced to flee his homeland, vowing to reclaim what he has lost, even if it kills him.

Facing an unknown future, and battling forces both familiar and foreign, can Lidan and Ran overcome the odds threatening to drag them into inescapable darkness?

Stunning dark epic fantasy spanning Bronze Age tribal conflict, Iron Age military conquest and the Australian bush. Perfect for fans of Robin Hobb, Devin Madson and Mark Lawrence.
About the Author
Splitting her time between Central Queensland, Australia and Lancashire, England, Alicia is a writer, a mum and a cat-herder. There are rumours she may in fact be a quokka in disguise, but these are not to be believed. She began writing in her teens and never grew out of the phase, publishing Blood of Heirs in 2018, Legacy of Ghosts in 2019, and the final book of The Coraidic Sagas trilogy, Empire of Shadows, in 2022. She is an accomplished editor, holds a Bachelor of Education and has studied a Post Graduate Certificate in Ancient History.
If this epic dark fantasy is getting intrigues you, give this one a try. You can find it on all popular online platforms.
Amazon: https://www.amazon.ca/Blood-Heirs-Coraidic-Sagas-Book-ebook/dp/B07JN26KK8/ (Canada)
https://www.amazon.com/Blood-Heirs-Coraidic-Sagas-Book-ebook/dp/B07JN26KK8/ (USA)
https://www.amazon.co.uk/Blood-Heirs-Coraidic-Sagas-Book-ebook/dp/B07JN26KK8/ (UK)
Goodreads: https://www.goodreads.com/book/show/41063986-blood-of-heirs
Happy Reading Everyone!!
---