BBNYA Semifinalist Spotlight Tour | 16 Nov 2022
Dear Bookbugs,
This year, the Book Blogger's Novel of the Year Award (BBNYA) is celebrating the 50
books that made it into Round Two with a mini spotlight blitz tour for each title.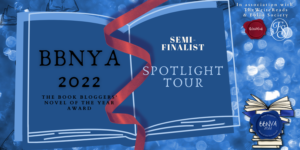 I am trying my best to be a part of this spotlight blitz. Today's BBNYA semifinalist spotlight features the book named 'Strangest Day SO Far' by G V Pearce. 
Blurb :
Life-changing injuries, a shared hospital room, a monster at the door – can you think of a better way to fall in love?

Ronan Cox sets aside his peculiar past to pursue his military career. Then he's shot down over an Iraq desert, meets an eldritch being, and wakes up in an American hospital.

Byron Slain, aka Benjamin Williams, aka the tattooed, pierced pretty boy in the bed beside Ronan's, has his own strange story, but no time to tell it when a clawed cryptid comes scratching at their hospital door.

And then things start getting really strange.
About the Author :
GV Pearce – Gen is the author of the queer supernatural romance novels Ghost Story and Strangest Day So Far. Several years spent working in animal welfare have left them with an endless supply of tales too ridiculous to be fiction. Perhaps one day they'll put those stories into a book. In the meantime, Gen can usually be found wandering the Yorkshire Moors in search of cool rocks, inspiration, and a decent cup of coffee.
If you are interested in this paranormal romance, give it a try. You can find it on all the popular online platforms.
Amazon: https://www.amazon.ca/Strangest-Day-Eldritch-Roads-Novel-ebook/dp/B08W9FYXFT/ (Canada)
https://www.amazon.com/Strangest-Day-Eldritch-Roads-Novel-ebook/dp/B08W9FYXFT/ (USA)
https://www.amazon.co.uk/Strangest-Day-Eldritch-Roads-Novel-ebook/dp/B08W9FYXFT/ (UK)
Goodreads: https://www.goodreads.com/book/show/56638120-strangest-day-so-far
---