BBNYA Semifinalist Spotlight Tour | 04 Dec 2022
Dear Bookbugs,
This year, the Book Blogger's Novel of the Year Award (BBNYA) is celebrating the 50
books that made it into Round Two with a mini spotlight blitz tour for each title.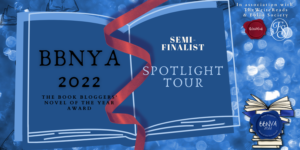 I am trying my best to be a part of this spotlight blitz. Today's BBNYA semifinalist spotlight features the book named 'Elle's A to Z of Love' by Claire Houston.
Blurb :
Haileybrook, a beautiful village in the peaceful Cotswolds countryside, is most people's idea of heaven on earth.

Born and raised in this small slice of paradise, Elle Bea can't wait to leave.

It should be easy, but every time she packs her bags for exotic adventures, old loves and loyalties pull her back.

Will Elle be forced to forget her dreams of far-flung places and epic romance, or can she grab one last chance to have it all?

An uplifting, romantic story about friends, family and the relationships that make a place a home.
About the Author
Claire Huston lives in Warwickshire, UK. She writes uplifting modern love stories about characters who are meant for each other but sometimes need help figuring that out.
A keen amateur baker, she enjoys making cakes, cookies and brownies almost as much as eating them. You can find over 150 recipes on her website. This is also where she talks about and reviews books. You can find her on Twitter, Facebook, Pinterest and Instagram: linktr.ee/clairehuston_author
If you are interested in this romantic comedy, give it a try. You can find it on all the popular online platforms.
Amazon: https://www.amazon.ca/Elles-Love-feel-good-modern-friends-ebook/dp/B096SMVRD4 (Canada)
https://www.amazon.com/Elles-Love-feel-good-modern-friends-ebook/dp/B096SMVRD4 (USA)
https://www.amazon.co.uk/Elles-Love-feel-good-modern-friends-ebook/dp/B096SMVRD4 (UK)
Goodreads: https://www.goodreads.com/book/show/58299860-elle-s-a-to-z-of-love
Happy Reading Everyone!!!
---