BBNYA Semifinalist Spotlight Tour | 03 Dec 2022
Dear Bookbugs,
This year, the Book Blogger's Novel of the Year Award (BBNYA) is celebrating the 50
books that made it into Round Two with a mini spotlight blitz tour for each title.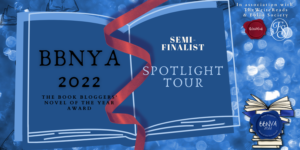 I am trying my best to be a part of this spotlight blitz. Today's BBNYA semifinalist spotlight features the book named 'Dark Apprentice' by  Val Neil.
Blurb : 
A psychopathic wizard. An immortal mage. An epic battle of wills.

Nikolai doesn't want much out of life: sex, immortality, and the power to disembowel anyone who crosses him. But with dark magic forbidden, his only option is Medea–a mage so deadly even the Enforcers give her a wide berth. Despite dire warnings that her apprentices don't survive, Nikolai won't stop until she agrees to train him. After all, he's a killer himself.

Barbaric and brutal, the training is a far cry from what Nikolai expects. When a mysterious illness strikes Nikolai down, he suspects he's found the secret to Medea's longevity. He resolves to find out what happened to her previous apprentices. If he can locate the source of her power, he can turn it against her.

Medea swore off training dark wizards–none of them take the craft seriously and the ungrateful bastards always try to kill her. This one definitely seems the backstabbing type, but magic is dying out and she hasn't felt such magical strength in centuries. If she can control the boy, show him that magic is more than curses and necromancy, he might obtain the power he desires. If not, well . . .

What's one more dead apprentice?
About the Author :
Val was diagnosed with autism at the age of forty-one and couldn't be happier to have her weirdness professionally validated. She lives in California with her ADHDer spouse, three children (two neurodiverse and one undecided), a normal number of dogs, and an abnormal number of birds.
For a free short story, witty ramblings and recommendations, sign up for my monthly newsletter: subscribepage.com/t7a2d4
Web: valneil.com
Twitter: @ValNeilAuthor
Facebook: facebook.com/valneilauthor
If you are interested in this dark fantasy, give it a try. You can find it on all the popular online platforms.
Amazon: https://www.amazon.ca/Dark-Apprentice-Fall-Magic-Book-ebook/dp/B08YDCNZN1 (Canada)
https://www.amazon.com/Dark-Apprentice-Fall-Magic-Book-ebook/dp/B08YDCNZN1 (USA)
https://www.amazon.co.uk/Dark-Apprentice-Fall-Magic-Book-ebook/dp/B08YDCNZN1 (UK)
Goodreads: https://www.goodreads.com/book/show/57990401-dark-apprentice
Happy Reading Everyone!!
---