Book Review | The Library | By Bella Osborne
Contemporary Fiction| NetGalley e-ARC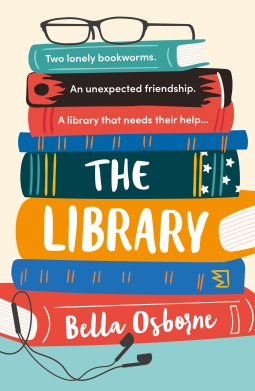 Two different generations. Two unusual people. Thrown together to save their local library. Tom is a teenager and blends into the background of life. After a row with his dad, and facing an unhappy future at the dog food factory, he escapes to the library. Tom unwittingly ends up with a bagful of romance novels and comes under the suspicion of Maggie. Maggie is a pensioner and has been happily alone for ten years, at…
My thoughts 
Narrative and Plot 
The Library is one of those stories that celebrate the odd friendship between two people from different generations. Told from the perspective of the two main characters, Tom and Maggie the book discusses the theme of isolation and the need for a community no matter what generation you are from. This theme is particularly relevant at the current times when people aren't even surprised by the overnight lockdowns and isolation.
The plot mainly focuses on the relationship between the main characters. It is a coming of age story for Tom and reconciliation with the past for Maggie. The journey towards these goals is heartwarming, to say the least.
Characters and Conflicts 
The story has quite an ensemble of characters. However, it is the main characters that keep you hooked to the book. The way they're written makes your heart go for them and want this friendship to blossom. You as a reader can their yearning and it makes you root for them.
The conflict of the book goes a lot deeper than what it seems at the surface. At the same time, the story has a balance of light-hearted moments and keeping things simple. Isolation and loneliness among a crowd is something that we can relate to and that is the underlying theme of the story.
However, if I am being picky, there are a few characters in the story that came off as bullies and the "bad guys". Since the story is dealing with isolation for people in different situations, I expected some kind of a subtle nod to show how they too have some layer of issues that surface as being evil. However, that didn't happen and they remained just the evil guys till the end. Not that it affected the story in any way but it is the only thing I could point out as something that could have been more. 
Conclusion 
Overall, Thd Library is a heartwarming comfort read that delivers exactly what it promises. When you pick up the book, after reading the synopsis you expect a few things and the book provide all those moments in abundance. 
---
Disclaimer : I received an e-ARC of the book from NetGalley in exchange for an honest review.