The WriteReads Blog Tour Spotlight | These Walls Were Never Really There | By Bryan Blears
Dear Bookbugs,
It is spotlight time here in the world of bookbugs!! Today we are going to look at the literary fiction book, "These Walls Were Never Really There " by Bryan Blears.
This spotlight is a part of TheWriteReads blog tour.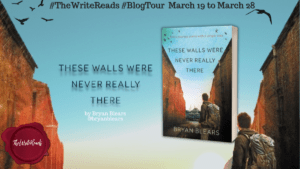 Here's a synopsis of the book :
Based on the author's own experiences of leaving home and travelling across Europe on less than
a pound a day, These Walls Were Never Really There is a compelling true story described by
publishing editors as 'immersive and moving' and 'a potential prizewinner in the making'.
Initially set in the heart of Manchester's homeless community, These Walls follows twenty-year-
old Cameron, who is propelled on a physical and spiritual journey which will take him far from
the life he once knew.

A surprising story about mental health, friendship and redemption, this compelling debut will
take you on a journey across Europe and beyond, as Cameron and his travelling companion
Jacob navigates perilous border crossings, packs of wolves, and the harsh realities of life on the
road.

Set against the backdrop of the emerging Arab Spring, Cameron and Jacob will have their
friendship pushed to its limits as they find themselves trapped thousands of miles away from
home…
About the Author
Bryan Blears is an author of contemporary literary fiction from Salford, Manchester. He has
written for the Huffington Post, the New Statesman and the Philosophical Society of England,
among others.
Focusing on social issues, mental health and overcoming personal adversity, his fiction has been
compared to George Orwell, Sylvia Plath and Donna Tartt. His debut novel, These Walls Were
Never Really There, has been described by critics as an 'immersive and moving true story' and 'a
fantastic talent, and a potential prizewinner in the making'.
Happy Reading Everyone!!