BBNYA Semifinalist Spotlight Tour | 7th September 2021
Dear Bookbugs,
Before we begin, in case you're wondering why I am posting more spotlights than reviews, here is an update. I wasn't able to read much last month because of some personal stuff. I had to move out for my work and things are still settling down. The good news is that I have started to read again after a mini hiatus. It will be a week for two before I can post regularly, but rest assured all you bookbugs will be getting the regular book reviews soon.
Now, back to the task in hand. As part of the BBNYA semifinalist spotlight tour, today we are featuring In Servitude by Heleen Kist.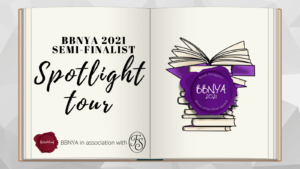 If you aren't aware of the BBNYA awards, it is an annual award for indie books. BBNYA is organised by TheWriteReads in association with The Folio Society. The best part of BBNYA is that it is read and scored by book bloggers from all over the world.
Lets take a look at the book of the day.
Blurb
When Grace's beloved sister Glory dies in a car crash, her life spirals out of control.
She discovers Glory was indebted to a local crime lord and laundering money
through her café. What's worse, Grace is now forced to take over.
Defying her anxiety, Grace will stop at nothing to save herself and those Glory left
behind from the clutches of Glasgow's underworld. But her plans unravel when more
family secrets emerge and Grace is driven to question everything she believed about
her sister – even her death.
Could Glory's accident have been murder?
About the Author
Throughout her life, Heleen Kist has been fondled, patronised and ordered to smile
by random men. So she wrote 'Stay Mad, Sweetheart', a feminist tale of justice,
published November 2019.Whilst her professional knowledge of technology start-ups
fed the novel's setting, its theme of insidious harassment and discrimination required
no research: it is familiar to all women.
Heleen was chosen as an up and coming new author at Bloody Scotland 2018. Her
first novel,'In Servitude' won the silver medal for Best European Fiction at the
Independent Publishers Book Awards in the USA and was shortlisted for The Selfies
awarded at London Book Fair.
A Dutch strategy consultant living in Glasgow and married to a Scotsman, she's
raising their son to be a good man and their daughter to kick ass.
Heleen hopes you enjoy her writing, and would love to hear from you on twitter
(@hkist), Faceboook (@heleenkistauthor) or Goodreads. You can also sign up to her
newsletter on www.heleenkist.com.
If that makes you curious enough, follow the BBNYA results, to know if the book makes it to the finals. Even better, you can read the whole book as it is available on all major online platforms.
Happy Reading everyone!!