BBNYA Semifinalist Spotlight Tour | 8th September 2021
Dear Bookbugs,
We are back with another BBNYA seminfinalist spotlight!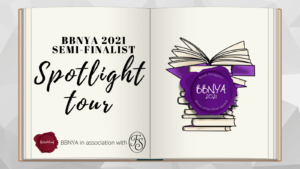 If you aren't aware of the BBNYA awards, it is an annual award for indie books. BBNYA is organised by TheWriteReads in association with The Folio Society. The best part of BBNYA is that it is read and scored by book bloggers from all over the world.
Today's BBNYA semifinalist spotlight features the book named 'First Earth' by Cami Murdock Jensen.
Blurb
Scarred and reviled. She's the only hope for a magical world… and ours.

Sixteen-year-old Agnes Ann Cavanaugh hates mirrors and herself. Horribly
disfigured as a baby and constantly battling chronic pain, she trusts only two people:
her mom and the blind author who offered her an internship. But as she's translating
an ancient tablet for him, she triggers an attack by terrifying monsters that catapults
her into an enchanted realm.
Barely able to catch her breath, she meets a strange old man and his talking cat who
claim she's a wizard destined to save their Earth. But when Agnes magically
determines he's lying about something, her wariness warns her she needs to get
home. Yet, if she doesn't master her latent abilities to defeat an evil necromancer,
her own planet is as doomed as the one she hopes to escape.

Will Agnes protect the people that desperately need her, or is this the end of life as
she knows it?
First Earth is Book One in the fast-paced Arch Mage YA fantasy series. If you like
wondrous creatures, heart-racing adventures, and underdog protagonists, then you'll
love Cami Murdock Jensen's extraordinary journey.
Author Bio
Multi-award winning author, Cami Murdock Jensen grew up in Spanish Fork, Utah,
fostering two passions: science and the fine arts. As a senior in high school, she won
the Sterling Scholar in science and cloned DNA to compete on the state level. One
year later, she wrote the score for her first children's musical, "Robin Hood: Tales of
Ye Merry Wood", which she later published. She has since dedicated years to
teaching, writing, composing, and directing, as well as studying the genetic defect
that runs in her family. Cami has six amazing children who have battled leagues of
demons and a husband who is a much better hero than any prince.
If this one gets your interest, make sure to check it out on all popular online platforms. 
Happy Reading Everyone!!