BBNYA Semifinalist Spotlight Tour | 10th September 2021
Dear Bookbugs,
As you are quite aware by now, I am part of the BBNYA panel. Which is why I am happy to participate in the ongoing semifinalist spotlight tours of the BBNYA.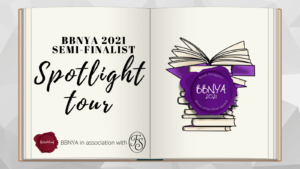 If you aren't aware of the BBNYA awards, it is an annual award for indie books. BBNYA is organised by TheWriteReads in association with The Folio Society. The best part of BBNYA is that it is read and scored by book bloggers from all over the world.
Today's BBNYA semifinalist spotlight features  'Elemental Links' by M A Leon.
Blurb
"Take him and run." The last words of Jake's mother urged him to save his brother,
Louie. Jake and Louie get thrown into the outside world, where Jake learns his skill
with a sword can save their lives, and Louie, gifted with elemental magic, soon
learns his magic is part of something much bigger: a world of spirits that wage a war
of their own.
The necrom are after Louie. The only way the abominations can increase their
numbers is to capture and possess more adepts. After centuries of the necrom
pillaging, adepts are scarce. The necrom want Louie and won't stop until they
capture him.
Along their way, they meet Cassie; a fiery brunette with more secrets than Jake and
Louie signed on for. The boys' unlikely friendship with her turns their run-and-hide
strategy on its heels.
Their journey is fraught with unexpected creatures, friends, and new allies. Aside
from tournaments and drakons, Jake and Louie are tested as they've never been
before. Can they defeat the force that threatens not just Louie, but every adept in

Elabrium? Will their allies stand with them against the horde of necrom, whose mere
presence threatens not just themselves, but their newfound friends as well? 
About the Author
Born and raised in Calgary, Canada, Melanie has been in love with the medieval
fantasy all of her life. Dreams of magic, dragons, maidens, and knights have
enthralled her since a young age.
​
Medieval literature university classes were among her favourites, as was art history
from the medieval to the classical periods. Together, along with her excitement of
reading anything written about the medieval period, Melanie has gained a realistic
view of the medieval age, and how to tweak it into something new.
Action, peril, strategy, and determination fill her books. Determination for life, for
friends, and for doing what no one else dares to do.
​
On the side, Melanie has strong interests in design, photography and horse jumping.
If you read carefully, you might notice tidbits that only an artist or horse owner would
know.
If this book caught your eye, make sure you check it out on any of the popular online platforms. 
Happy Reading Everyone!!
---