BBNYA Semifinalist Spotlight Tour | 13th September 2021
Dear Bookbugs,
Here we go with yet another BBNYA semifinalist spotlight post.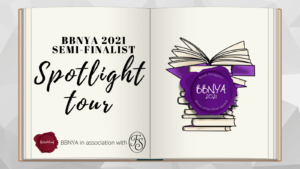 If you aren't aware of the BBNYA awards, it is an annual award for indie books. BBNYA is organised by TheWriteReads in association with The Folio Society. The best part of BBNYA is that it is read and scored by book bloggers from all over the world.
Today we have two books under the spotlight. Let's take a look at them without any delay.
1) May Day by Josie Jaffrey
Blurb
If the murderer you're tracking is a vampire, then you want a vampire detective. Just
maybe not this one.
It's not that Jack Valentine is bad at her job. The youngest member of Oxford's
Seekers has an impressive track record, but she also has an impressive grudge
against the local baron, Killian Drake.
When a human turns up dead on May Morning, she's determined to pin the murder
on Drake. The problem is that none of the evidence points to him. Instead, it leads
Jack into a web of conspiracy involving the most powerful people in the country,
people to whom Jack has no access. But she knows someone who does.
To get to the truth, Jack will have to partner up with her worst enemy. As long as she
can keep her cool, Drake will point her to the ringleaders, she'll find the murderer
and no one else will have to die.
Body bags on standby.

May Day is the first book in Josie Jaffrey's Seekers series, an urban fantasy series
set in Oxford, England. 
About the Author
Josie is the author of multiple novels and short stories. Most of those are set in the
Silverse, a pre- and post-apocalyptic world filled with vampires and zombies.
She is currently working on a range of fantasy and historical fiction projects (both
adult and YA). Ultimately, she hopes to be a hybrid author, both traditionally- and
self-published.
​
After finishing her degree in Literae Humaniores (Classics) at the University of
Oxford, Josie wasn't sure what to do with her life.
She slogged through a brief stint working for an investment bank in London during
the 2008 credit crunch, then converted to law and qualified as a solicitor specialising
in intellectual property. She worked at a law firm for five years before moving to a
UK-based international publisher in 2016. Whilst she loved law, in the end she didn't
love it quite as much as writing, which she now does almost full time.
​
Josie lives in Oxford with her husband and two cats (Sparky and Gussie), who
graciously permit human cohabitation in return for regular feeding and cuddles. The
resulting cat fluff makes it difficult for Josie to wear black, which is largely why she
gave up being a goth. Although the cats are definitely worth it, she still misses her
old wardrobe.
2) The Swordsman's Lament by G M White
Blurb
When a prince is murdered, a legendary swordsman stands accused.
The King wants blood . . .
and loyalty counts for nothing.
Belasko thought he was beyond intrigues and machinations. But when the grief-
stricken King demands vengeance, Belasko discovers he is expendable. His options
are clear… find the real killer or satisfy the royal bloodlust. 
With the forces of the palace mobilised against him he is thrust into the city's bleak
underbelly and must fight to discover the truth. With betrayal around every corner he

must form unlikely alliances. Can the veteran warrior survive long enough to protect
his friends and prove his innocence?
Join Belasko on a fast-paced fantasy adventure as he hunts the real killer, from
courtly intrigue to the depths of the city's criminal underworld, and learns the true
meaning of The Swordsman's Lament.
About the Author
G.M. White has always been an avid reader, a love of the written word instilled in
him by his parents at an early age. This may or may not have something to do with
the fact that he was a very talkative child and the only time he was quiet was when
he had his head in a book. Anyway, we'll give them the benefit of the doubt on that
one.
A lifelong daydreamer he finally decided to put his imagination to good use and set
pen to paper (well, fingers to keyboard) and started to write down the worlds that he
carried with him in his head. The Swordsman's Lament is his first novel.
He has also had the typical author's chequered job history. He has been at various
times an actor, a performer at The London Dungeons, a theatre usher and box office
clerk, a ticketing systems specialist working at the Ambassador Theatre Group,
National Theatre, and Royal Albert Hall, and played drums in a variety of rock bands.
After thirteen years living and working in London he and his wife gave up the rat
race, and moved to St. Martin's in the Isles of Scilly, where they continue to live.
You can find him online and sign up to his newsletter at https://gmwhite.co.uk
If you interested in any of these books, make sure you check them out on any of the online platforms available.
Happy Reading Everyone!!