Malibu Rising | By Taylor Jenkins Reid
Book Review | Historical Fiction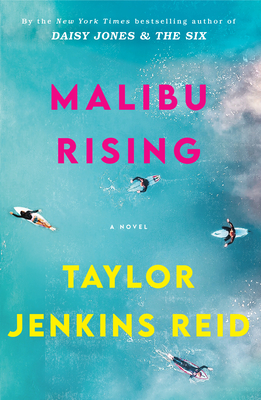 Malibu Rising is a story about one unforgettable night in the life of a family: the night they each have to choose what they will keep from the people who made them... and what they will leave behind. (Goodreads)
My thoughts 
Narrative and Plot 
Malibu Rising lures you into this fictional family history built by Taylor Jenkins Reid. It is a story about a celebrity family, The Rivas – Four siblings and their parents. Like all of the author's books, this one too carries that easy flow with the narrative shifting mostly between the members of the Riva family and revealing each piece of the story.
The plot spans over decades starting from the parents in 1950s to the day of this huge party that is being held at the eldest, Nina Riva's, residence. Each of the siblings has their own personal issues to deal with and then there are the common issues they collectively face being the children of the Riva family. It gives the readers the sense of being a fly on the wall to the history of this family. 
Characters and Conflicts 
Each character is well crafted with great attention to detail. The narrative shifts from chapter to chapter but there's little confusion about who is who. Even some of the guests attending the party have personalities distinct enough that they remain memorable. 
The conflict in the book is something that is not as external as some would like. It is this simmering feeling inside one which they have carried through years that bursts like a wildfire. If you compare it with Reid's previous work , you would expect nothing less. By this time you're so awed by the fictional celebrity world building that you take it for granted. Still, the ease and finesse with which the setting and the events are constructed baffles me. 
Conclusion
The book had me reading page after page. It made me care about the characters and their fate. All very true. However, I would like to view this as an individual work. As in, if someone read Malibu Rising as their first Taylor Jenkins Reid book, it is possible that they might rate it a 5. But, if you have read her previous works, you would know that she has mastered the art of writing these glamorous fictional biographies and continues to do so. 
---