BBNYA Semifinalist Spotlight Tour | 17 September 2021
Dear Bookbugs,
Here I am back with another semifinalist spotlight  for BBNYA.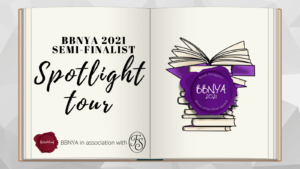 If you aren't aware of the BBNYA awards, it is an annual award for indie books. BBNYA is organised by TheWriteReads in association with The Folio Society. The best part of BBNYA is that it is read and scored by book bloggers from all over the world.
Let's take a quick look at the books on spotlight for the day .
1)Behind Blue Eyes by Anna Mocikat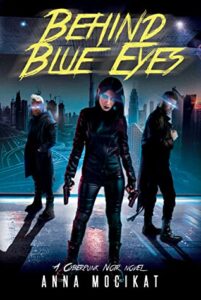 Blurb
They are the perfect hybrid between human and machine. They are the next step in
the evolution of mankind. And when they come after you, nothing in the world will
save you…
Welcome to the year 2095.
Society has overcome everything that made human life miserable. It has become
perfect — so perfect that it needs killer cyborgs to hunt down anyone who disagrees
with it.
Nephilim isn't just any elite death squad member, she is the best. Genetically and
cybernetically enhanced, she and others like her strike terror wherever they go.
Knowing nothing besides this lifestyle, Nephilim believes that she's part of a
righteous cause.
But everything changes for her after a hostile EMP attack.
She suffers a severe system glitch. Disconnected from the grid, for the first time in
her life, she begins doubting the system.

Shortly after the attack, she meets Jake, a 100% biological human, and she falls in
love with him. Jake helps her discover that everything she had believed in was a lie.
But there is no walking away from the system. And soon, Nephilim finds herself
hunted by members of her own death squad.
In an era of deception, who can she trust? And in this brave new world, is there a
place for love between a human and a cyborg?
Behind Blue Eyes is a fast-paced, cinematic action story in a dystopian setting. It's a
modern-day version of 1984 – on steroids.
About the Author
Anna Mocikat was born in Warsaw, Poland, but spent most of her life in Germany
where she attended film school, worked as a screenwriter and a game writer for
several years.
Her "MUC" novels have been nominated for the most prestigious awards for Fantasy
and Science-Fiction in Germany.
In 2016 Anna moved to the USA where she continued her writing career.
"Shadow City" was her debut in English in 2019. She lives in Greenville, South
Carolina, and is a proud dog-mom of three rescues who assist her when she's
writing.
2)A Facet for the Gem by C L Murray
Blurb
When the mightiest eagle finally meets a rider worth carrying, a young man
becomes a legend. Join all the readers soaring through this action-packed
epic fantasy.

In a land of eagle-riding knights, bloodthirsty beasts, and a ruthless tyrant, young
Morlen retreats from thousands of snapping jaws with the stolen Goldshard in his
grasp. Its power to bestow strength and invincibility is just a panicked whisper away,
and he'd feel naked without it while he fights the sinister forces that follow him at
every turn.
Fortunately, he gains a few peculiar allies: a legendary warrior reluctant to leave his
sheltered paradise, a wizard tormented by his past, and the untamable bird of prey
that kings and heroes have sought for centuries.
A Facet for the Gem is a coming of age fantasy that brings Morlen from distant
kingdoms to sprawling aerial battles, into the fiery breath of a stony dragon and side-
by-side with a lady knight who is the last person to need rescuing. Fly with him as his

epic adventures culminate in a final showdown against swords, fangs, and greatest
of all: his own fear.
About the Author
Charles Laurence Murray was born in 1989 and grew up in San Diego, California. He
spent many days lost in the humming, spark-scattering clashes between Luke
Skywalker and Darth Vader, caught up in a charge with the Riders of Rohan, and
enthralled by the cadence and poise of Doc Holliday emerging from the shadows to
face Johnny Ringo. When he was thirteen, he became obsessed with the idea of an
eagle-riding, sword-wielding hero and developed it over the years into an epic, four-
part fantasy series called The Tale of Eaglefriend.
He published his first novel, A Facet for the Gem (The Tale of Eaglefriend–Book
One) at the end of February, 2016, and it has been featured on ten Amazon Top 100
lists, ranking at #2 in Kindle Teen Epic Fantasy, and at #5 in Kindle Adult Epic
Fantasy. Podium Publishing, the award-winning audiobook publisher whose first
fiction title was Andy Weir's The Martian, picked up the audible rights to The Tale of
Eaglefriend five months after its debut, and narrator James Foster brings the first
installment to life with a stellar performance.
On November 1, 2018, after weeks of severe illness while beginning the final three
chapters of Eaglebreaker, he was diagnosed with testicular cancer that had
metastasized to his lungs. The ensuing months of chemotherapy and other
treatments were highly effective, and finally in August of 2019, after learning the
cancer had spread to his brain and enduring a string of seizures from the
hemorrhaging, he completed the book. Thanks to California's remarkable health care
and the expertise of his doctors and nurses, he has a long, happy life to look forward
to.
The Tale of Eaglefriend will continue with Books Three and Four.