Book Review | Magic Lies and Deadly Pies | By Misha Popp
NetGalley E-Arc | Mystery Thriller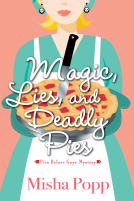 The first time Daisy Ellery killed a man with a pie, it was an accident. Now, it's her calling. Daisy bakes sweet vengeance into her pastries, which she and her dog Zoe deliver to the men who've done dirty deeds to the town's women. But if she can't solve the one crime that's not of her own baking, she'll be out of the pie pan and into the oven. Parking her Pies Before Guys mobile…
My thoughts
Narrative and Plot
Magic, Lies and Deadly Pies got my attention on NetGalley because of the appealing cover and a fun synopsis. I was looking forward to reading a cozy mystery. However, from the beginning of the plot, that expectation was thwarted as we find out that the protagonist is the killer. This is not a spoiler as the reveal comes right at the beginning of the plot and almost the entire plot was given away in that synopsis. That could be one of the reasons why the pacing felt off.
The narrative didn't exactly connect with me, and the pacing was painfully slow. There wasn't a mystery element, and the few twists revealed were somewhat predictable. However, towards the end, the story picked up the pace if one could ignore the fundamental disagreement with the plot.
Characters and Conflicts
Before we dive deep into the protagonist, Daisy, let me make this clear. I enjoyed every other character in the book except for the main character. And that is basically the problem. 
No matter how the story glorifies it, Daisy is basically a serial killer. In this era of mob mentality, instant justice and internet abuse, it is hard to get behind a character who is a self-proclaimed vigilante. 
No matter what her rulebooks are, it didn't justify the ends. It kind of emphasises the criticism by the antifeminists that women can get away with anything. All you have to do is reverse the roles and think of the MC as a male character. 
The ending has a plot hole which was conveniently forgotten for the story's sake, but it neatly wrapped things up.
Conclusion
Magic, Lies and Deadly Pies is a half-baked thriller at best that aspires to be empowering but has to go a long way to get there. This is the first book in a mystery thriller series. Hopefully, the next installments are much better than this. Unfortunately, I won't be following this one anytime soon.
---
I received an e-Arc of the book from NetGalley in exchange for an honest review.