TheWriteReads Blog Tour Spotlight | The Hidden King and The Wild Court | By E G Radcliff
Dear Bookbugs,
In today's spotlight, I would like to introduce you to the YA fantasy series, The Coming of Áed. The Hidden King is the first book in the series and The Wild Court is the third book in the same.
This spotlight is a part of TheWriteReads blog tour.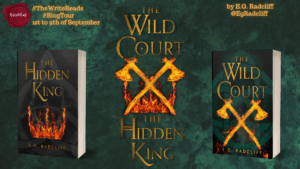 Here's the synopsis of both books :
Hidden truths. Hidden power. Hidden destiny.

On the shores of a rusty sea, in the streets of a starving city, a young man named Áed scraps to build a life for himself and the makeshift family he loves. Scarred by a trauma he cannot remember, and haunted by the brutal damage it left behind, he has no idea of the courage his future will demand.

When tragedy strikes, a desperate Áed risks a treacherous, life-changing journey in his last chance to save the only family he has left – but an ancient legacy smouldering within him is about to turn deadly. Neither he – nor a kingdom – will ever be the same.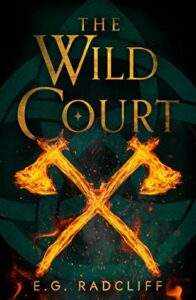 What perils await on the other side of the veil?

In the seventh year of Áed's reign, night descends on the autumn festival. But a time of revelry turns into one of fiery destruction—as fae pour across the veil and the Gut becomes a battlefield in an otherworldly war.

Determined to protect his kingdom and the people he loves, Áed finds himself catapulted into a realm as unfamiliar as it is dangerous, where magic is king and wild courts vie for supremacy.

While the faerie Queen's missing consort holds the key to life and death, tenuous alliances raise questions about Áed's connection to the mysterious Bone court. His survival hinges on cunning as much as illusion.


About the Author
E.G. Radcliff IS A PART-TIME pooka and native of the Unseelie Court. She collects acorns, glass beads, and pretty rocks, and the crows outside her house know her as She Who Has Bread.

Her Coming of Áed fantasy series was crafted in the dead of night after offering sacrifices of almonds and red wine to the writing-block deities.


From what I gather, this series sounds like an action-filled adventure with complex characters. I am always up for catching up with a good series, especially fantasy series with elaborate worldbuilding. If this sounds like something you're into as well, give this book a chance.
Happy Reading Everyone!!