Tistheseasonathon – Bookbug's Readathon Wrap Up
Dear Bookbugs,
Today is the 10th day of blogmas and I can't wait to share with you all my very first readathon experience. I've always wondered how people go through readathons. It seems so intense and hectic to be honest. I read leisurely and I just cave in whenever I am under pressure to read on a deadline (Check my NetGalley and Goodreads profile for evidence!!). Even so, I took on this readathon challenge because it was meant for holiday reading. The challenges were not too complicated.  You can visit my Day 1 post to know more about that.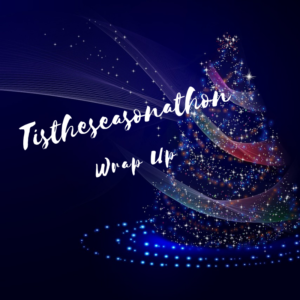 I managed to narrow it down to three books to complete all the challenges that I took on. There was a bonus reading challenge and a buddy read book which I gave a miss. Three books is the most I can do on a five day working week.
Despite being rushed I enjoyed the whole experience more than what I had intended to do. For a whole week, I had nothing but books in my thoughts. There was an adrenalin rush to finish each book and check off each challenge. As an added bonus, all I had to do was read holiday books which are just so easy and pleasing to read in one go.
Now I feel like I can take on more readathons. Only I need to find some short books to read.
I have posted a review of two of the books and the next one will be coming up by tomorrow. Since this is a wrap up I am rating my books in the order of least favorite to the most favorite
Christmas At Little Beach Street Bakery by Jenny Colgan
This book was fun, festive and delicious to read but it didn't keep up with the other two books that I've read. The plot was not at all strong and as I have mentioned in my review, many characters got away with their faults way too easily. I don't enjoy books that build up the conflict but skip the confrontation part. That is why this is my least favorite book of the readathon.
The Christmas Forest by Rebecca Boxall
Listening to Christmas music and reading this book was such a cozy experience. It is a novella that warms up your heart by the end. The book took it's time to build up to the conflict and then it managed to deliver the latter part as well. The book is all about how each character deals with their struggles, how holidays are a time when all is forgotten and everyone gets into that festive mood.
A Very Lucky Christmas by Lilac Mills
So far this has been my favorite Christmas read. I would probably recommend it to everyone who loves a funny chic lit. It is a simple sweet love story of a woman named Daisy Jones. I loved her personality her jovial side and the way she transforms into a confident woman by the end of the book.  I wish the book explored more on the career side but this is meant to be a holiday read. So I am looking the other way and enjoying the good things the book is offering me and that is warmth and comfort reading.
Overall, I have a feeling that holiday readathons are going to be my thing!! Despite the less sleeping hours, I am very much looking forward to participating in a holiday readathon next year as well.
Thank you, Heather, from Bookables for hosting this amazing readathon, #tistheseasonathon.