Book recommendations for Contemporary-a-thon
Contemporary-a-thon is a contemporary readthon  co-hosted by the booktubers Chelsea Dolling, Julie , Natasha and Melanie . It starts from 23rd September 2019 and lasts till 29th September 2019.
Today, I am going to describe the seven challenges of the readathon and suggest a book for each of them.
Read a 2019 release
Any of the contemporary books on your TBR would go for this. But the book I have picked is Things You Save in a Fire by Katherine Center.
Cassie Hanwell is a well accomplished fire-fighter in Texas. But when her mother wants her to move in with her in Boston for a year, it changes her life significantly. Fitting into a new fire station as a female fire fighter and working on building a career while not trying to fall for a fellow firefighter seems like quite a challenge.
The reason I picked this book is because it could fit most of the challenges in this readathon. In case, you are running short of time you can tick most of your challenges if you finish this one.
2.  Read a contemporary with yellow on the cover
Again, Things You Save in a Fire is an easy pick for this one. However, if you wish to pick a different one for this challenge I can give you options.
Olive comes to attend the wedding of her twin sister Amy. And the best man of the wedding happens to be her rival, Ethan. Following the events of the wedding where everyone gets food-poisoned except Olive and Ethan, they are forced to go the honeymoon instead of the married couple. And then the story begins.
Nothing screams more yellow than The Unhoneymooners by Christina Lauren. This is a 2019 release as well. So you can club this book for challenges 1 and 2 as well.
3. Read a diverse contemporary (aim to read something outside of your own experience)
Most of the books I read are by authors foreign to me. However, for this particular challenge I am picking a book which is completely diverse for all the reasons.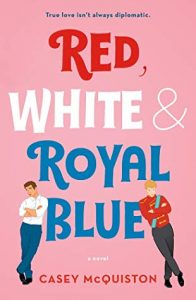 A romance between the American president's son and the British prince – now there is a plot that is totally out of the park of whatever life experience I have. Casey Mcquiston's debut novel, Red,White and Royal Blue mostly has a positive word among the bookish community and now seems a good time to dive into this one.
On a side note, – a life of a female firefighter again counts as something out of your life experience, right? Just saying. I mean I know it counts in my case. 😉
4. Read a contemporary with an illustrated cover
Illustrated covers are all the game these days. Look above – Red, White and Royal Blue counts as one too.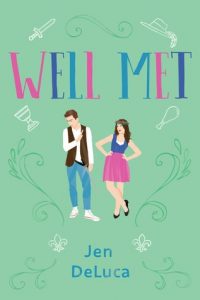 However, Well Met by debut author Jen Deluca is all over booktube, twitter and book blog. It was the cover that got my attention. This is another hate-to-love rom com. And I am all into the genre and would love any excuse to read one as well.
5. Read a dark / hard-hitting contemporary
I have quite a list of hard hitting contemporaries on my TBR which I keep putting off due to emotional reasons *cough cough*. Well here is one for the contemporary-a-thon, The Far Field By Madhuri Vijay. This has been listed for the JCB Literature Prize 2019 long-list.
Devastated after the loss of her mother, Shalini goes to Kashmir in search of a man who disappeared from their life longtime ago – Bashir Ahmed. In this quest, Shalini deals with the politics of the region and is faced with her past and has to make difficult choices that could alter the course of not only her life but those around her.
This book features one of the world's most complicated conflict  – Kashmir. What could be more hard-hitting than that?
Also, if you're a non-Indian reader you can club this book for challenge 3 as well.
6. Read a contemporary with plants on the cover
Most of the books I suggested so far has plants on the cover. Things You Save in a Fire, The Unhoneymooners, Well Met and Far field. Any of the above will do.
7. Read a contemporary that is beloved by a member of the book community (and shout out the creator!)
My favorite booktuber Heather from Bookables  has been raving about again – guess what – Things You Save in a Fire by Katherine Center. This is how I got motivated to read this one. And I am not making up this excuse to club this book into the challenge. It's true. I even commented on her video!
Well, honestly you can pick any contemporary book that your friend or fellow book blogger suggested to you.
I hope you have a great time doing this contemporary-a-thon.
Contemporary is my favorite genre. So, I am really excited to be a part of the readathon as well.
Happy reading everyone 🙂