The Little Bookshop At Herring Cove | By Kellie Hailes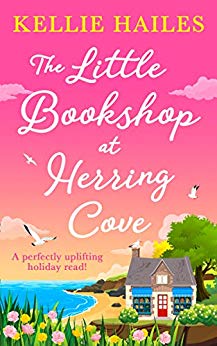 Sophie Jones loves her little bookshop at Herring Cove. She'll never give it up to big property developer, Alexander Fletcher – no matter how handsome he might be… Yet beneath Alex's sharp suit and persuasive manner, there's something about him that makes Sophie want to trust him. So when he offers to help make her little shop a success again, she wonders whether this could be the start of something wonderful for both Sophie and…
My thoughts
Narrative and Plot
The Little Bookshop At Herring Cove is a cute romantic read with the backdrop of a bookshop. Needless to say any book lover will have a good time with it. The story is told from both Sophie and Alexander's perspective.
The plot however is not one of the strong suit of the book. The love story felt too instant and it was hard to get into the romance thereafter. If you read the synopsis, you will get a hate to love vibe. Instead you're greeted with two people who are attracted to each right from scene one. If that doesn't throw you off, the fact that both of them want the opposite ends of a stick and still pursue each other will do.
Characters and Conflicts
Sophie is rooted in her past. It makes her who she is. The depth and portrayal of loneliness through Sophie is commendable. It makes you care for the character. Alexander Fletcher on the other hand is a man burdened by expectations. The internal struggle of these characters is one of the highlights of the book. However, instead of straightaway jumping into a romance, if only it took more time for the main characters to fall for each other, it would have made for a great read.
The epilogue had glimpses of other characters such as Alexander's family. The book could have spent more time showing how Sophie's relationship with them evolved. The supporting characters from the village were likable and enjoyable.
Conclusion
Is this a necessary pick for any bookish person? I don't think so. I had a good time reading it, yet it will be a one time read for me. If you love the backdrop of a fishing village, bookstore and a budding young romance give it a go. Otherwise, The Little Bookshop At Herring Cove might not be the one for you.
---
Disclosure :  1) I received an e-ARC of the book from NetGalley in exchange for an honest review.   
              2)This website uses affiliate links. This is not a paid promotion but Bookbugworld will earn a small commission if you click on the link for purchase.