Thank You For Listening | By Julia Whelan
Book Review | Contemporary Romance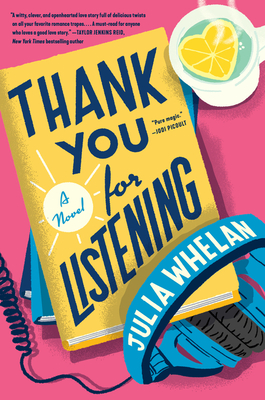 Synopsis :
For Sewanee Chester, being an audiobook narrator is a long way from her old dreams, but the days of being a star on film sets are long behind her. She's found success and satisfaction from the inside of a sound booth and it allows her to care for her beloved, ailing grandmother. When she arrives in Las Vegas last-minute for a book convention, Sewanee unexpectedly spends a whirlwind night with a charming stranger.

On her return home, Sewanee discovers one of the world's most beloved romance novelists wanted her to perform her last book—with Brock McNight, the industry's hottest, most secretive voice. Sewanee doesn't buy what romance novels are selling—not after her own dreams were tragically cut short—and she stopped narrating them years ago. But her admiration of the late author, and the opportunity to get her grandmother more help, makes her decision for her.

As Sewanee begins work on the book, resurrecting her old romance pseudonym, she and Brock forge a real connection, hidden behind the comfort of anonymity. Soon, she is dreaming again, but secrets are revealed, and the realities of life come crashing down around her once more.

If she can learn to risk everything for desires she has long buried, she will discover a world of intimacy and acceptance she never believed would be hers.
My thoughts
Before we begin, I first heard Julia Whelan when I listened to the audiobook of Maybe In Another Life by Taylor Jenkins Reid. Her voice has a soothing aura that demands all of your attention, like those meditation voices. It keeps you focused, and I just love to get lost when she narrates these stories. I recently watched an interview between an author and an audiobook narrator. It piqued my curiosity enough to pick this book.
Narrative and Plot
Thank You For Listening is a romance novel, not just between the main leads Sewanee and Brock but, between the reader/listener and the audiobooks. I love audiobooks and I don't think I listen to them enough. For someone who wonders about how narrators decide to adapt the different voices ( meek heroine, strong heroine, the sexy male lead, shady ex-boyfriend, scruffy dad voice, tired mom voice, giddy neighbor voice, cool friend voice, cat voice, and so on and so forth.), this book is a peek behind the curtain. Although the author admits that this doesn't even scratch the surface and part of it is still fiction. In that case, this is a fantasy and oh, so be it. I enjoyed it.
The audiobook aspect is only a theme. The plot, however, is deeper. It is universal and rings a bell and that is what keeps you immersed in the journey.
Characters and Conflicts
Finally, a romance novel with a serious conflict. No, it's not one giant misunderstanding, but it is the sum of all those small things that encompasses who we are as a person. In this case, Sewanee is a flawed character and so is Nick. It is their flaws that become a part of their personality. It is all intertwined. Their inner conflict and external conflict. It's not the ideal HEA romantic situation, but the messy version. Even so, it hits most of the romance tropes and is quite self-aware.
The characters don't just have an arc, but they grow as people. And maybe they make mistakes in the future too, but they are on the path of simply accepting themselves and each other too. That forms the core of the book – acceptance. And where such acceptance actually begins. It is such a universal conflict that you cannot help but feel connected.
Conclusion
I enjoyed listening to this book. I think I picked it up at the right time. I have been going through some changes myself. I am making promises of enjoying where I am right now rather than worrying about where I should be. The book resonated with me because I am in that space and that is the beauty of reading; I guess. The right book finds you just when you need it.
---