Schmuck the Buck | By Exo Books | Illustration by Karina Shor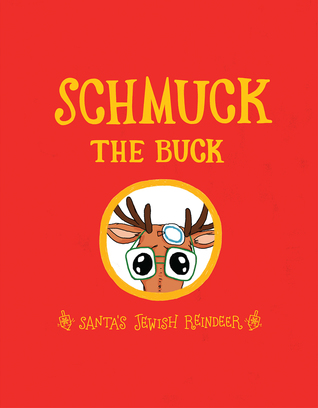 About the Author
Exo books is the pen name and publishing company of a science fiction writer. That is all I got from Goodreads . I received an eARC of the book from the author in exchange for an honest review.
Synopsis
Schmuck the Buck is a fun satire on Rudolph the Reindeer. Larry is a bullied caribou who is Jewish and lives in the North Pole. The folks around look down at him for being different until he saves the Christmas day.
It is a sixty-page illustration that you can read like a gentle breeze.
My thoughts
I love reading satire and an illustration is an added bonus. I am reading an illustration after ages it seems. The pictures are all so detailed and definitely caricatures. Some of the nuances I might have missed because of the cultural ignorance. None the less it was festive and funny.
Years back, I worked in a firm where we had a team working at the Philippines other than India. Every Christmas they would go on holiday and we will have to work on weekends and carry over the workload for December to meet the targets. Santa's office reminded me of that time. Larry represents a lot of us in some way or the other.
Now I won't call it a children's book. This is definitely a book for adults. Kids might enjoy the color and pictures but the content is solely for adults. I don't think kids could relate to any of these hustle adults go through during Christmas. Also, I wouldn't want the kids to wake up to the reality that Santa's gifts aren't magic!!
That being said, this would make a perfect Christmas gift for your friends. Now, if you are the secret Santa to any of your colleagues, do not look farther. Grab a hard copy or a paperback( if you are not too fond of this aforementioned colleague ) and gift this book!!
Get your copy from :
Schmuck the Buck: Santa's Jewish Reindeer by EXO Books
My rating: 3.5 of 5 stars