Red Birds | By Mohammed Hanif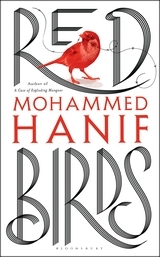 I received an e-ARC of Red Birds from NetGalley in exchange for an honest review.
Synopsis
(Courtesy : Goodreads)
An American pilot crash lands in the desert, unprepared for any situation that can't be resolved with the After Eight mints in his survival kit. Hallucinating palm trees and dehydrating isn't Major Ellie's idea of a good time, but he figures it's less of a hassle than another marital spat back home. In a neighboring refugee camp, Momo has his own problems; his money-making schemes aren't working out as planned, his dog has ideas above his station and an academic researcher has shown up to study him for her thesis on the Teenage Muslim Mind. And then there's the matter of his missing brother…
Narrative and Plot
A book with a smart narrative is always fun to read. A book that has chapters with a dog's – a Mutt's – perspective is even better. Red Birds shifts to each characters and their own worldview at the things happening around them. It gives us a glimpse of their world. A refugee camp, a Hangar and the vast desert with no hope left.
Red Birds has a grim plot if you dig beneath the surface. Yet, using the satirical narrative as cover, it touches on all the hard topics that is there about modern day wars and their after effects. However, it doesn't leave you in a state of anguish. It makes you think and the cringe comes later when you finish a chapter and put a bookmark. The ending is a refreshing meta, but has enough emotional turmoil to make you squirm.
Characters and Conflict
Red Birds is full of interesting characters. Some characters don't even have a proper name but they're distinct like Mother Dear, Father Dear, Lady Flowerbody and even the Doctor. However, the three major characters are Momo, his dog Mutt and Ellie. It is the story of how they had come to become who they are. And where they will go from here on. Needless to say, my favourite character is the Mutt. He seems the voice of reason and wise too, occasionally when he is not wallowing in self pity but in an endearing way. Momo is a boy who grew up beyond his age given his extraordinary circumstances. The jabs at aid workers, raining bombs and western invaders can make people uncomfortable. But hey, this is a satire and you have to read it with a pinch of salt.
The conflict is simple as mentioned in the synopsis. Momo's brother is missing and he wants to find him. Will he or not? However, in the quest to finding a lost brother, you unearth a lot more in the abandoned refugee camp and the life there. In the end, no war has brought anything good in this world and through all it's light sarcastic anecdotes, Red Birds delivers that message well and clear.
Conclusion
Red Birds is a must read for anyone who is an advocate of peace or otherwise. This is a story about the expendables. The unavoidable left overs of a war torn region. In the end, all one can ask is was it all worth it then?
_____________________________