Book Review | Second Cousins Once Removed | By Kenneth L Toppell
TheWriteReads Blog Tour | Crime Thriller
Henry Attkinson's life as an attorney is slow, predictable, and lonely, given his divorce and his ex-wife's custody of the kids. He recently took up geneology as a hobby to fill the time, but it doesn't do much to spice up his mundane routine. Until the day he prods at a dead end of one of the branches of his family tree. Who is this cousin Shelley, whom he's never met or even heard of…
My thoughts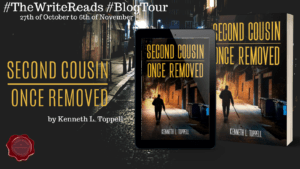 Narrative and Plot
Second Cousins Once Removed is, as the title suggests, all about the cousins Henry and Shelley. Things take a twisted turn when Henry seeks out his cousin for a family tree. The narrative alters between Henry, Shelley and Carolyn – the three main characters.
The plot starts out great and maintains a balance of mystery and a cat-and-mouse chase upto a certain point. The ending feels a bit stretched and does not exactly induce the wow factor. It becomes a bit too straightforward towards the final act.
Characters and Conflicts
Henry and Carolyn are on the run. The whole idea and the bizarre situation that suddenly dawns upon their lives keeps you hooked for the most part. Henry blooms as the story progresses, from a lonely and nervous attorney to a confident middle aged man. Carolyn however felt one dimensional for the most part. Not that she is not interesting. Obviously, her presence brightens up the story and that's just about it. She is just too flawless.
The romance and the chemistry between the main characters does not exactly warm your heart. It is there and it doesn't interfere with the main plotline. Shelley however is an intriguing personality. His odd sense of honor and code keeps you on your edge. He is unpredictable and that adds the thrilling aspect of the story. However, after a certain showdown, the story goes on and as a reader you expect something big to happen. Unfortunately it takes the predictable and safe route.
Conclusion
Overall, Second Cousins Once Removed is a cozy crime thriller for a one time read. It has a compelling voice and a combination of odd characters which will entertain you throughout.  
---
Disclosure :  1) I received an e-copy of the book from @TheWriteReads in exchange for an honest review for #thewritereads #blogtour.  

              2)This website uses affiliate links. This is not a paid promotion but Bookbugworld will earn a small commission if you click on the link for purchase.