One Night Only | By Catherine Walsh
Book Review | Contemporary Romance | NetGalley E-Arc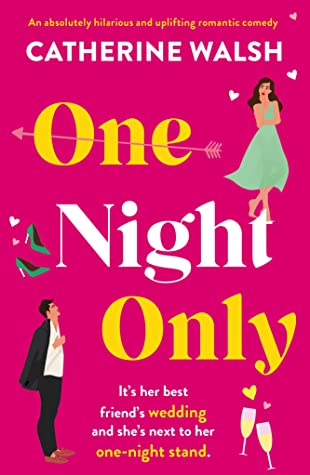 Who could have predicted this? Being at the same wedding. In Ireland. There's a reason one-night stands are one-night stands. You're not supposed to see each other again, especially not when you're the maid of honor, and he's the groom's brother… Sarah Anderson has never been more excited about anything in her life. She's going to her best friend's wedding. And not just any wedding. An Irish wedding. Goodbye New York, hello rolling green hills…
My thoughts
Narrative and Plot
One Night Only is perhaps one of the few rom-coms I've read recently, that doesn't follow most of the common romance tropes. This itself is quite refreshing in terms of narrative. There is wit, charm and amazing chemistry between the main characters. That alone makes it a page-turner.
The plot is mostly character-oriented, however, the pacing never wavers. It hits each beat perfectly and keeps moving. There is a back and forth of feelings between the main characters, but if you're into this tug-of-war kind of romantic story, it could be entertaining as hell.
Characters and Conflicts
Sarah is your quintessential protagonist. She reminds me of a typical protagonist from the 90s or early 2000s rom-coms. The commitment-phobe who is content with one-night stands. It doesn't change overnight. The story takes it's time for Sarah to get to know Declan in different situations. 
Declan, on the other hand, has this air of mystery around him which I love. He is unpredictable, yet reliable at the same time. His conflict is revealed much later in the book. It takes you out of the story for a moment. However, it reels you back in by resolving the same as realistically as possible with a dash of drama of course.
The story has an ensemble cast which is quite colourful and remarkable.
Conclusion
Overall, I enjoyed One Night Only more than I thought I would. It has that classic romantic comedy vibe, yet it is relatable in a modern-day dating context. I won't mind reading it again if I am in the mood for a fun romantic comedy.  
---
I received an e-Arc of the book from NetGalley in exchange for an honest review.
This website uses affiliate links.