Book Review | Olive by Emma Gannon
NetGalley | Audiobook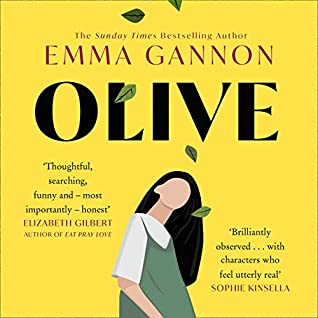 Independent. Adrift. Anxious. Loyal. Kind. Knows her own mind. OLIVE is many things, and it's ok that she's still figuring it all out, navigating her world without a compass. But life comes with expectations, there are choices to be made, boxes to tick and – sometimes – stereotypes to fulfil. And when her best friends' lives start to branch away towards marriage and motherhood, leaving the path they've always followed together, Olive starts to question…
My thoughts
If you're a regular visitor to the Bookbugworld, you know my review style. My reviews basically focus on narrative, plot, characters and conflicts. Rarely comes a book that surpasses these basic story structure elements and still manage to touch your heart. Olive by Emma Gannon might be a 3/5 for me, if I rate it based on my usual criteria. Somehow, I can't bring myself to be objective about it.
This isn't a book that has the three act structure or any other plot building device. Olive is basically a thirty two year old woman's thoughts while she navigates through the idea of being child free. For someone, who doesn't want kids, Olive is surrounded by situations that reminds her of a woman's role as expected by the society. It is hard for many people to understand that fulfillment is subjective. Olive's experiences and fears felt a lot more personal to me – as a woman who is kind of in a similar crossroads in life.
Yes, there were questionable things in the book that didn't make sense to me. Why does Olive maintain friendships that is essentially not healthy for her and basically force herself in their life? Why is she quick to judge women who are mothers by choice? Yes, there are fundamental differences between how I think and the main character. But her trials and tribulations made me feel seen for the first time. The topic is not something we see very often in women's fiction. Which is why I was drawn to it in the first place.
In conclusion, I must say this book is not for everyone. It is for niche readers like myself and even then, keep an open mind while reading. I am a single woman in my thirties who does not want to follow the heteronormative route of settling down and following my biological clock. There is nothing wrong with those things, but I don't want that. Not in the pace, that is expected of me. To live by this choice is not easy, however.  
It is for people like these, that I would suggest reading Olive. Particularly, if you're questioning yourself about your maternal instincts – especially the lack of it – then give this book a try.
---
Disclosure :  1) I received an e-ARC of the book from NetGalley in exchange for an honest review.