Bookbugworld's June TBR | 2020
Dear Bookbugs,
June is the month of monsoon in my state. The trees start looking more green and the roads are all washed up clean everyday. There is the smell of wet soil, the gentle breeze and gloomy dark clouds over your head. Overall, it is the perfect month to cuddle up with a good book and a cup of chai ( tea!) . You get the picture basically.
While I always look at a romanticized version of monsoon –  given the way things are right now – I acknowledge the challenges that come with the season. There are fewer jobs for the laborers in the season on top of everything. Then there are regions that can be flooded or have landslides any moment. And most disconcerting fact is the spread of common flu in this time apart from the pandemic itself. Yes, it is scary. I honestly hope that the Universe show mercy upon us and the season goes without much perils. 
As pointed out earlier, this is a precariously beautiful season. Which is why I am inclined to read fantasies or books with dark themes during the monsoon. Now, as you know by now my go to genre is contemporary womens fiction. So, I am thinking about giving a bit of a room for myself and pick out a few fantasy books while including a few contemporary books as well. 
Here is a list of books that I am planning to read this month,
1) Catalyst by Tracy Richardson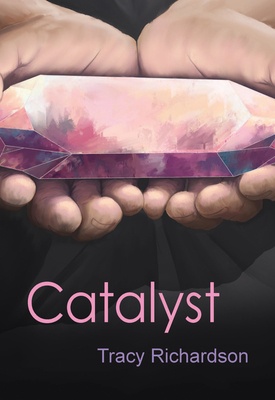 I have already completed Catalyst by Tracy Richardson for #TheWriteReads blog tour. I started this book by the end of May but it went on till June. The review for this book is available in my blog if you're interested. I didn't exactly love it. But the book had a good message. It is a YA fantasy about a young girl named Marcie who goes to work on her mother's digging site for the summer. But soon she is caught up in this whole mystical energy that wants to save the Earth and humanity. At the same time Marcie has to fight the biggest of mankind's enemies – their greed for power and money.
2) Venators : Promises Forged
Veanators – Promises Forged is the second book in the Venators series written by Devri Wells. I have read the first one, again, as part of #TheWriteReads blog tour. I enjoyed the whole YA fantasy premise. But the first book only set the stage for the second one. So, I am really curious to see how the story goes from here on. In this book we follow two teenagers Rune and Grey who are plucked up from their normal high school life and are now placed in a world where magic is real and every fantasy being they ever knew is real. Not only that Rune and Grey find out that they have powers of their own which can probably seal the fate of this magical world. 
The first book was filled with action and adventure. I expect nothing less from this one too. 
3) Beach Read by Emily Henry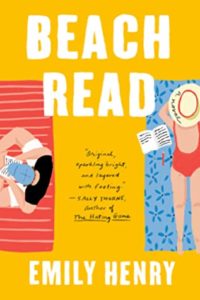 Beach Read by Emily Henry is one of the most hyped books of the year. From what I've heard, it has lived up to its expectation. Pegged as a romantic comedy, the book is much more than that exploring relationships and grief from the main character's perspective. The book follows two authors – Augustus Everett and January Andrews. Augustus is a literary fiction author while January is a romance writer. Both are going through a writer's block. While dealing with their slump and living next to each other, both decide to switch genres. As a reader, it is always fun to read about the other side. That is one aspect that draws me to this book and the stellar reviews I've seen so far are just the bonus.
4) Crossing In Time by D L Orton
Crossing in Time is another book for a blog tour by none other than #TheWriteReads community. I will have to call this a fantasy or science fiction. As the name suggests it is about time travel. This is a dystopian love story.  Isabel is given a one way ticket to go back into the past to see her lover one last time. He was murdered in the present and going back would mean she could actually try and save him. But, if she change the reality, she would risk losing him to someone else.
Now, if that is not an intriguing conflict, I don't know what else is. I have always loved stories about time travel. I mean, even though Stephen Hawkings had proof that it is only fiction, I am hoping one day he is proved wrong in this matter. That's how much the idea of time travel fascinates me. So, I am going into this one as blind as I can possibly be and hoping to just enjoy the journey.
5) Black Leopard Red Wolf by Marlon James
I bought this book from The Big Book box last year. Ever since I have really wanted to read it. But it keeps getting postponed in the sea of arcs and blog tours. This month is as good as any to finally sit down and read a book that I really want to. Written by Marlon James, Black Leopard Red Wolf is the first one in the Dark Star trilogy. The book follows a hunter named Tracker. He is a loner but this time he has to break the rules as he becomes part of a hunting group all looking for a missing child. A group of misfits on an adventure to find a missing child. What can be a better theme for a fantasy? Especially when the said group involves a shape shifting leopard, a giant and a witch. I even have a specially themed bookmark for this one!
6) The Never Have I Ever Club by Mary Jayne Baker
The Never Have I Ever Club by Mary Jayne Baker is one of those NetGalley e-ARCs I fondly requested because I love the cover. The story takes place in Yorkshire where we follow Robyn Bloom. Robyn is madly in love with Ash until he leaves her in Yorkshire and moves to some far away land. Dejected Robyn struggles to move on until she finds the Never Have I Ever Club. The club brings together all the villagers and turns out that everyone has their own amusing bucket lists to follow. With this new found group, Robyn finds happiness and finds herself falling for her neighbor Will. Now comes the catch – Will is Ash's twin brother. And Ash is coming back and he wants Robyn back.  So basically the book has most of the romedy tropes in a single package. Turns out judging a book by its cover is not so bad after all. I hope I can say the same after reading it.
7) Ricochet by Kathryn Berla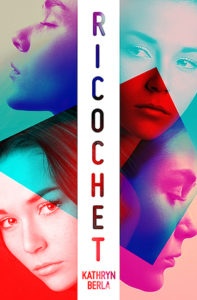 This is the final book on my TBR for the month of June. Ricochet by Kathryn Berla is a YA fantasy/ sci-fi book that I requested on NetGalley. The book came out in October 2019 and I haven't read the e-ARC yet. So this is a need to read book for me and now is the weather for such a read. Ricochet gives me some kind of Orphan Black meets Man in the High Castle vibe.
We follow Tati who is a seventeen year old. Tati gets her DNA sequence tested to know her ancestry and gets an inconclusive report. When she digs deeper she finds out more than what she ever thought, she would find. This quest opens up a whole parallel universe where Tati has three other parallel lives. One as a shy girl, another as a privileged teenager and the third a on-the-run teenager. In order to survive Tati and her different versions must work together and find the cause of their existence – the evil scientist – who is also their father technically. I love stories with a sci-fi premise and this one seems like a fast paced thrilling adventure. 
Bonus Book
Those are all the books that I want to read this month. Another bonus book that I wish to add to this list is A Clash of Kings by George R R Martin. Bonus, because I don't know if I would finish them all. And also, because it takes a long time for me to finish a George R R Martin especially when I know what to expect in the book two.
We are living in a year which is not showing any signs of budging so far. Every month we can only hope the next one to be better. And with that, we can only hope we will be a better version of ourselves as well. If you have stayed to read until this point, I thank you.
Be happy. Be safe. And be kind  – both in the virtual and real world.
Happy reading everyone!!!
Disclosure :  This website uses affiliate links. This is not a paid promotion but Bookbugworld will earn a small commission if you click on the link for purchase.