Catalyst | By Tracy Richardson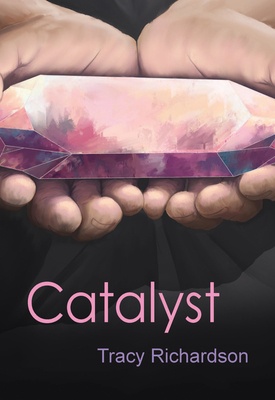 Marcie is spending her summer working on the archeological dig that her mother runs: Angel Mounds, a site of an ancient indigenous civilization. Soon after she arrives, she meet some intriguing individuals, and becomes wrapped up in a supernaturally-charged mission to save the planet from the destruction man has brought upon itself. Marcie Horton has a sixth sense. Not in the "I see dead people" way, but . . . well, maybe a little. She…
My thoughts
Narrative and Plot
Catalyst advocates the need to care for our planet with a strong plot. The message it delivers is vital and the approach is a bit different from the other fantasies with similar theme.
However, the narrative is not one of the strongest point of the book. Personally, I couldn't get into the writing style throughout the book. There was something that stopped me from immersing into the story, instead I was hyper aware  that I am reading a story. The transition between the scenes felt too abrupt. The pacing on the other hand was good enough to keep you turn the pages. Once you get invested in the story, it is easy to follow.
Characters and Conflicts
Marcie is the voice of reason in the story. Although she would have felt more wholesome had I read the previous book. In here, Marcie has only minimal growth as a character . True, she accepts her role with the new information thrown at her. Beyond that Marcie still doesn't feel empathy towards those who cannot accept the path. It might seem natural for someone at her age but Marcie has such deep connections to the Universe and has the ability to look at the world in a deeper way. When you add that together, her behaviour doesn't add up.
Leo's character on the other hand was developed nicely. The whole digging team and their vibe was fun to read.  The big reveal by the end of the book was unexpected and pleasant.
Conclusion
Catalyst is a one time read for me. It is quick and easy once you start buying into the story. The book signifies the importance of the work that needs to be done to save our home. It is not simple or straightforward, but even the thought can go far.
Disclosure :  1) I received an ebook from #TheWriteReads in exchange for an honest review for the #blogtour.

              2)This website uses affiliate links. This is not a paid promotion but Bookbugworld will earn a small commission if you click on the link for purchase.