Bookbugworld's November TBR | 2022
Dear Bookbugs,
The penultimate month of the year 2022 is upon us. Should I go for dark and cozy books like I try to do most Novembers? Or Should I just pick a handful of books that I truly need to read by this point of the year? That was the thought process behind this TBR. Needless to say, I went for the latter. So, please don't be surprised if you find books on this list that were part of previous TBRs as well. 
Without further ado, here is the list of books that I am planning to read this month :
1) A White Christmas on Winter Street by Sue Moorcroft
A Christmas read by Sue Moorcroft is becoming a part of my holiday reading tradition. And this year, I am starting the holiday reading early just because I cannot wait. This is a NetGalley E-Arc that got approved a few months back. 
In this book, we follow Sky who moves back to Middle Dip. She just quit a job that she loves. Being a workaholic, Sky has no idea what to do with her life when she is pulled into a street decoration competition. Then we have Daz, who is trying to hold on to the tight knit community that he has built. 
I am expecting a heartwarming tale of a small-town community. The one where different isolated lives can join together to bring them all happiness. 
2)Incense and Sensibility by Sonali Dev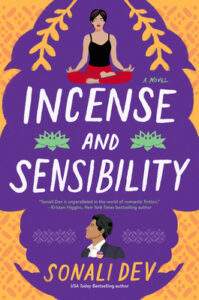 I am totally on board the Raje Universe that Sonali Dev has created. While I acknowledge that I am yet to post the review on the first one in this series, I have already started the third book in the series, Incense and Sensibility. It's been a minute since I read Sense and Sensibility. Still, I can't wait to find out how Sonali Dev reinvents The Dashwood sisters and Colonel Brandon. Maybe I would read the original after finishing this one.
3) Daisy Darker by Alice Feeney
After all those warm and fuzzy reads, I am finally ready to get my hands on a dark and moody thriller. November sky is generally cloudy and ready to burst where I live. Somehow I have a feeling that this book captures that vibe perfectly well. 
The protagonist in this book is the title character Daisy Darker. The entire Darker family gets together for their grandmother's birthday on an island. This gives us readers a closed-circuit mystery which I love reading, generally. Soon, one by one, the Darkers start getting killed. They need to figure out who the killer is before their time is up. 
The cover and that description was enough for me to sign up for this.
4) Write Before Christmas by Julie Hammerle
The title itself made me want to read the book. As someone who is trying to push myself into writing, that alone is relatable. And that's where the similarity ends.
In this book, our main character, a reclusive but successful author, is facing writer's block. That's how most of the author stories begin these days. Anyway, the author then goes to a secluded cabin ( Ok, is anyone not picturing Colin Firth by this point?). His assistant then appoints a chef to keep him fed and alive. And no, they don't have language barriers except there are other barriers which can find out by reading this one. 
5) The Silent Patient by Alex Michealides
Alright, I admit. If you check last month's TBR list, this book is over there too. Obviously, I didn't read it last month and decided to carry it forward to this month. If you aren't aware of the book, we follow Alicia Berenson who lives in a mental care facility. She shot her husband five times and stopped talking ever since. Now, Theo a criminal pyschotherapist wants to interview her. And that's the premise of the story. Fingers crossed that I finish it this month.
Beyond these books, I still have another mystery book to read for the BBNYA final round. And that is all for my November TBR. Let me know your thoughts in the comments if you have read any of these books.I would love to hear from you.
Happy Reading Everyone!!