Bookbugworld's October TBR | 2022
Dear Bookbugs,
I have been keeping my TBR quite light for the last few months and still struggling to keep up. This year I have read fewer books than ever. To sum it up, I have set up a goal of 70 and haven't even reached 40 books yet. So I am trying to read as much as possible in the remaining few months so that I could possibly reach somewhere near my goal. Even if I don't achieve it, it is ok. But hey, I could try nonetheless. It's not like I am going to read 50 books this month. I am sticking to my monthly average and hoping that I read more. Basically, I am picking five books for the TBR and then one secret book that I am reading for the BBNYA final round. 
Without any more rambling, let's take a quick look at all the books I plan to read in the month of October. In India, October, is basically the festive season where most of the festivals are about the triumph of light over dark, be it Dusshera or Diwali.
Since the weather is usually moody and rainy in October here, I have tried to pick books with a darker shade, mostly. As always, it is a mishmash of genres.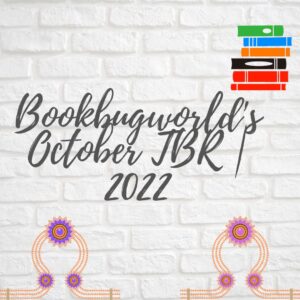 1)The Silent Patient by Alex Michaelides
My sister read this book and loved it. She lent it to me months ago.  I am finally picking it up this month so that I could return it to her before the end of the year. You know, I don't want to be one of those people who doesn't return a book and become a book sinner.
About the book, this is a psychological thriller, as far as I know. Basically, the book follows a woman, a painter, who shot her husband five times and then she stopped talking altogether. Now, a criminal psychotherapist is working to unravel the mystery behind the crime by getting her to talk in a secured forensic unit. 
The premise sounds intriguing. The bookish community has been raving about it ever since it came out. I have high expectations from this one. Let's hope it lives up to the hype.
2) Rising Shadows by Phillip Blackwater
I have already read this book. The review is out as it was part of a blog tour and I was already late with my review. Rising Shadows is the first book in the fantasy series, The Pillar of Creation. In this book, we basically follow a group of warriors who are on a quest to stop evil. However, in their journey, they basically learn to break their prejudices and work with one another for a better tomorrow.
The theme was a bit on the nose and there were other issues I had with this book, which you can read about in my review. However, the book had an interesting adventure set up and world-building that had me engrossed and invested in the story. 
3) Finlay Donovan is Killing It by Elle Cosimano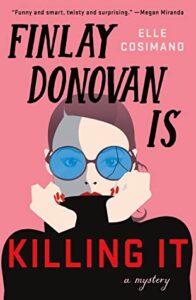 This is again another book that I bought because the entire bookish community was talking about it. Finlay Donovan is Killing It is a cosy mystery thriller, if I may. From what I have learnt so far, this is a thriller comedy. 
In this book, we follow the titular character, Finlay Donovan who is a single mom and struggling writer. Things get chaotic when someone overhears the plot of her new novel and mistakes her for a hitman or is it a hitwoman? Anyway, this stranger wants to hire her and Finlay ends up accepting the "assignment" because she is a single mom and the money is good. And then she ends up in the middle of a real-life murder mystery scenario. Basically, the story is going to be a comedy about mistaken identity and the chaos and murder surrounding it. I am kind of hoping this is going to be nothing less than a "4-star" book for me. 
4) Home Before Dark by Riley Sager
The last Riley Sager book I read was Final Girls. Ever since, I have wanted to read more books by the author. I have been saving this for October because this book has spooky elements. In this book, we follow Maggie Holt, whose job is to restore old homes. When she inherits Baneberry Hall from her father, she moves to Vermont in order to renovate the house for sale. Twenty-five years ago, Maggie and her parents used to live in Baneberry Hall. They fled the house one night. Later, her father wrote a non-fiction book about the ghostly encounters in the house which became highly popular and successful. However, Maggie was too young to recall any of it and does not believe in any of it. Once she moves into the house, Maggie experiences the same things that were written in her father's book. 
So, that sounds like a perfect October read. Again, this book has got great reviews as well. 
5) The Frost Fair ( The Miraculous Sweet Makers #1) by Natasha Hastings
Before I say anything about the book, doesn't that cover scream Frozen to you? And the Goodreads blurb says it is perfect for the Frozen fans! It was one of the main reasons I signed up for TheWriteReads blog tours. The first reason, it is a Harper Collins blog tour. I have never been on a Harper Collins blog tour before. 
The Frost Fair is a historical middle-grade fantasy book. In this book, we follow a thirteen-year-old girl, Thomasina. She and her friend Anne sell sweets on the streets during the day. They hear a rumour about this magical Frost Fair at night where Father winter grants you any wish. Thomasina has only one wish. To bring her brother back from the land of the dead. However, once they step into the magical Frost fair, they learn the "universal truth". No magical wish comes free. 
I love the sense of adventure and wonderment that comes with middle-grade novels. It leaves me with an uplifted mindset, and I am expecting the same from this one.
6) Secret BBNYA Book
The final book I am going to read this month is a secret. Mostly because I am not allowed to reveal it yet. The book is one of the candidates for the final round of the Book Bloggers Novel of the Year Award (BBNYA) 2022. If you are not aware of it, it is an award reserved exclusively for indie authors. 
Those are all the books that I am going to read this month. As always, I hope I would get to finish all of them. Let me know your thoughts about these books in the comments section. I would love to hear from you.
Happy Reading Everyone!!!
---