A Season of Hope by Aanandika Sood | Book Launch
Dear Bookbugs,
When I learnt that a fellow book blogger Aanandika Sood from #TheWriteReads gang, is launching her first book – a romance novella- and she is looking for people to promote her book, I jumped at the chance. I have no idea how to do this but it is always so exciting to see people completing that very first special project and launching the same. So, I heartily want to be part of this event. 
A Season of Hope by Aanandika Sood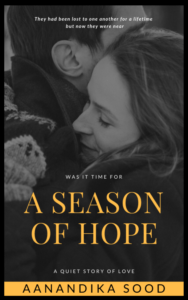 Comes Out on 25.05.2020
If you're looking for that short-book challenge, in your romance readathon mark your calendars and  keep this one in your mind.
Here is a brief glimpse of what the book is all about :
A Season of Hope is a novella about Amrita and Sahil who have walked their own paths in life, busy and content. They have known each other in passing but never came close. Until one day. …when destiny decided to put them in each other's periphery. Maybe after years of autumn, now was the time for a new season. A Season of Hope. 
I am just sharing my joy and excitement for a fellow book blogger who is now also a writer. I wish Aanandika all the best in her endeavours. 
I know I am looking forward to reading this one. From the blurb, I am hoping to find a soulful love story that also explores the melodies of Rabeendra Sangeeth or just any kind of music. There is nothing better than a combination of romance and music. 
Happy reading everyone!!!