Bookbugworld's Thursday Spotlight | 8 July 2021
Dear Bookbugs,
After two weeks , here I am back with another spotlight post. Today, I have three interesting newly released books as always.
1) The Secret Keeper of Jaipur by Alka Joshi
I have been wanting to read more books by Indian authors. And this one caught my attention. The second book in the Henna Artist series, this one can be read as a standalone in itself. But, from the reviews I gather it is better to start with the first book – The Henna Artist. It would be a while before I start this, but, in case anyone is interested, you can check this book set up in the retro era India.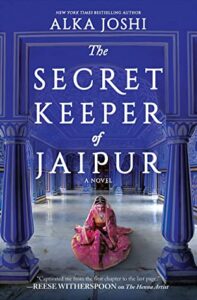 Synopsis 
It's the spring of 1969, and Lakshmi, now married to Dr. Jay Kumar, directs the Healing Garden in Shimla. Malik has finished his private school education. At twenty, he has just met a young woman named Nimmi when he leaves to apprentice at the Facilities Office of the Jaipur Royal Palace. Their latest project: a state-of-the-art cinema.

Malik soon finds that not much has changed as he navigates the Pink City of his childhood. Power and money still move seamlessly among the wealthy class, and favors flow from Jaipur's Royal Palace, but only if certain secrets remain buried. When the cinema's balcony tragically collapses on opening night, blame is placed where it is convenient. But Malik suspects something far darker and sets out to uncover the truth. As a former street child, he always knew to keep his own counsel; it's a lesson that will serve him as he untangles a web of lies.

In New York Times bestselling author Alka Joshi's intriguing new novel, henna artist Lakshmi arranges for her protégé, Malik, to intern at the Jaipur Palace in this tale rich in character, atmosphere, and lavish storytelling.
The book was published by Mira Books on 22nd June, 2021.
2)One Night Only by Catherine Walsh
Ok, I won't lie. I got hooked to this book because of the cover. I don't know what it is about these adorable illustrated covers, I can't help but go for it.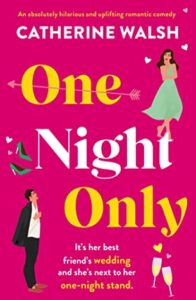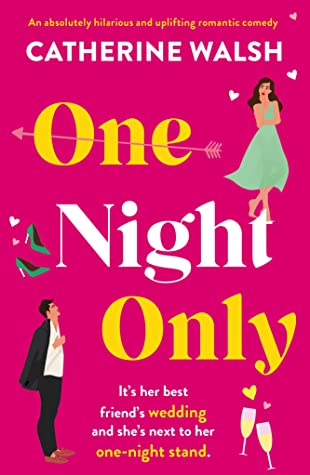 Synopsis :
Who could have predicted this? Being at the same wedding. In Ireland. There's a reason one-night stands are one-night stands. You're not supposed to see each other again, especially not when you're the maid of honor, and he's the groom's brother…

Sarah Anderson has never been more excited about anything in her life. She's going to her best friend's wedding. And not just any wedding. An Irish wedding. Goodbye New York, hello rolling green hills and men with beautiful accents and twinkling eyes.

But Sarah should have known that not all guests are fairy-tale princes…

There's the chinless Uncle Trevor, whose idea of small talk is to claim climate change is a conspiracy.

Then there's Great Aunt Eileen, who doesn't talk at all (she's too busy replacing the hotel cutlery with her own set).

Worst of all, there's Declan Murphy. Best man. Brother of the groom. And the man Sarah last saw naked.

Is there anything more mortifying than bumping into a one-night stand halfway across the world? Especially as Declan seems determined to embarrass Sarah at every turn. At least when the wedding's over she'll never have to see him again.

But, back in New York, Sarah finds the more she tries to forget Declan, the more she can't shake the thought of that infuriatingly charming smile and the way he wears a tux…

Was he really just for one night only, or might Declan Murphy be The One?

Prepare to laugh until you cry with this perfect feel-good romantic comedy about taking a chance on love. Fans of Sophie Ranald, Sophie Kinsella and Marian Keyes won't be able to put this down!
I am a Sophie Kinsella fan. So this one has all my attention. The debut novel by Catherine Walsh is published by Avon Books UK and is expected to be released by 30th July, 2021.
3) The Promise of Summer by Bella Osborne
This is a romance that kind of had me intrigued. It reminded me of one of my favorite Indian movie, Jab We met which loosely inspired the rom-com Leap Year. Anyway, I added it to my NetGalley library out of sheer curiosity to see how this story unfolds.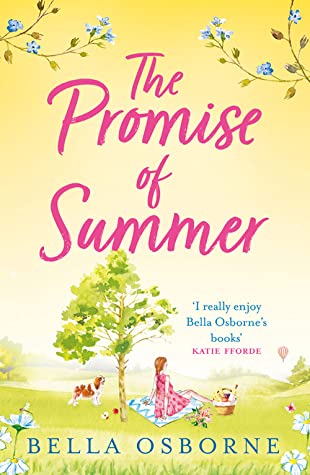 Synopsis :
The Promise of Summer was originally published as a four-part serial. This is the complete story in one package.


Ruby's life is about to change for ever…


After years of dating losers, cheats and one guy who did something unrepeatable to her kettle, Ruby has all but given up on romance. But then a stranger sits next to her on a train to London and explains his plan to propose to the woman of his dreams. Maybe true love does exist after all?

When the man accidentally leaves the engagement ring behind, Ruby is determined to save the day. But she hasn't counted on fellow passenger Curtis stepping in and insisting he should be the one to track the stranger down.   
 
As summer closes in, the unlikely pair make a promise to reunite the ring with its owner. But can they find their own happy ever after along the way?
The Promise of Summer is published by Avon UK Books and is expected to release by 22nd July, 2021.
That's my spotlight reads for the week. Hope you enjoyed it. If you're familiar with any of these books, let me know in the comments.
Happy Reading Everyone!!