The Flawsome Award
After a very long time, I am doing this award book post. The Flawsome Award and it is awesome!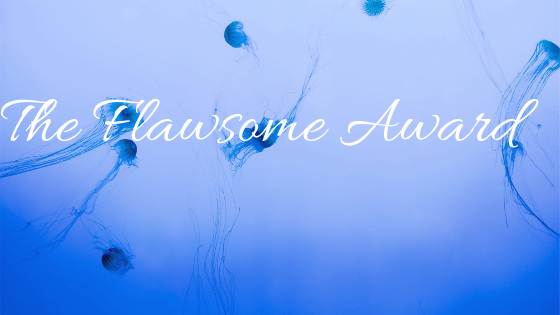 Thank you Allie @alliereads for nominating me. It took me a long time(nominated on Nov 2018!), but I came through. According to my understanding (after reading Allie's post), The Flawsome Award has three simple rules.
You have to mention three flaws or weaknesses about yourself
Now, you have to convert these flaws into your strengths
You have to nominate ten other bloggers for this award.
This self-empowering award was originally created by Sophia Ismaa. So, thank you Sophia for this award post which is actually a process of self-discovery.
So here we go,
I lose my temper easily – In my personal life, this is what I consider as my biggest flaw. I think only after reacting. And this is not deliberate. It is just the way my brain works. Now, how do I convert this into my strength?
Over the course of time, I am learning to tame myself. However I am fully aware of who I am as a person and some things just don't change. I have realised that this emotional outburst also comes from a place of passion. But the one thing I gain from this is, I don't hesitate before expressing my opinions. And forget about sugar coating. I can always call a spade, a spade. I am assertive at my work place and it is easier to get what you want when you can express yourself without fear. And people trust you when you talk to them because they know if anything is wrong, I won't keep quiet just to be nice.
I obsess over small things – I have never been officially tested. So I don't know if this is a case of selective OCD. But there are things in my life which I absolutely want to be in order. If they're not, it messes up my day. Small things mostly. I am the kind of person who buys the next sunscreen before your last one is emptied. This is just a simple example. I plan ahead and try to stay on top of things (except for ARCs, mind you!). This helps me to work meticulously. And I am the one, people rely on to have that extra tissue or sanitary napkin packed when there is an emergency or the one who can think of all the stuff you need for a small party. So even though my quirks annoy people, sometimes, I can save the day.
I talk a lot – I am an ambivert. But, I am usually the talkative one in my comfort circle. This might not look like a flaw but it is, because you end up saying things that you wish you didn't, later on. How do I turn this around, though? Basically, just watch my words, I would say. It's easier said than done. But being able to communicate well has helped me mend a lot of relationships which I hold dear. It lets me live a life free of grudge. I have a light heart because I never hold back. It has it's disadvantages but it has kept me sane most of the times.
There, I think I have done it. Believe me, this was the hardest thing to write. It's not easy to admit these things. I hope I didn't bore you with my ramblings.
So now I am passing on the baton and nominating ten other awesome bloggers for this Flawsome Award.
Dee        @deesreadingtree
Surbhi    @booksuntold
Cassandra @thebibliophagist
Stephen   @stephenwrites
Zenobia    @entangledwords
Devyani    @musingsofabibliophagist
Roo             @bythe100thpage
Christina   @christinasbookescapes
Hasanthi   @hasanthisbookworld