The Dead Romantics | By Ashley Poston
Book Review | Contemporary Romance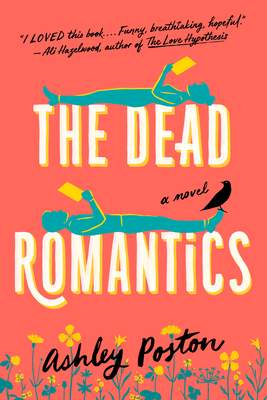 Synopsis :
Florence Day is the ghostwriter for one of the most prolific romance authors in the industry, and she has a problem—after a terrible breakup, she no longer believes in love. It's as good as dead.

When her new editor, a too-handsome mountain of a man, won't give her an extension on her book deadline, Florence prepares to kiss her career goodbye. But then she gets a phone call she never wanted to receive, and she must return home for the first time in a decade to help her family bury her beloved father.

For ten years, she's run from the town that never understood her, and even though she misses the sound of a warm Southern night and her eccentric, loving family and their funeral parlor, she can't bring herself to stay. Even with her father gone, it feels like nothing in this town has changed. And she hates it.

Until she finds a ghost standing at the funeral parlor's front door, just as broad and infuriatingly handsome as ever, and he's just as confused about why he's there as she is.

Romance is most certainly dead… but so is her new editor, and his unfinished business will have her second-guessing everything she's ever known about love stories.
My thoughts
Narrative and Plot
Most of the people who reviewed this book said that it was a warm hug in the form of a book. I couldn't agree more with them. Indeed, it is a warm hug, a tight embrace, and a fuzzy feeling once you finish this lovely book. The Dead Romantics follows Florence Day, who is a ghostwriter.
The theme and the premise of the book is death, and yet it stays hopeful. Florence and the rest of the Day family have a morbid sense of humor. It is hard not to get into the spirit of things and suspend your disbelief for a few moments. I kind of guessed the ending, but even so, it was a satisfying experience to see it all coming to life on the pages.
Characters and Conflicts
Florence is such a relatable character for me, personally. An aspiring writer who secretly dabs with smutty fanfictions and later in life is hardened by her experiences and believes that she is not the same person anymore, hits too close to home for me. I believe everyone can relate to that aspect of life. We change and evolve owing to our experience. But it is up to us to keep that inner child alive with wonder and love. That is my biggest takeaway from this book.
Benji Andor is flawless. Then again, we only met the ghost of a person. I believe it was intentional to make him too perfect. I wouldn't mind a mini novella that features the real-life issues these two have once their happily ever after starts. I say this because last year I wished for a sequel to a particular character ( from a Catherine Walsh novel) and the author confirmed that it is happening!
The ensemble cast was the cherry on the cake. The family dynamics and sibling woes had me even more drawn to this story. A rom-com with no potential for conflict is my biggest complaint about most contemporary romances these days. But this one knocked it out of the park in terms of conflict. It defies tropes, yet meets all romance tropes at the same time.
Conclusion
The Dead Romantics is as morbid as Wednesday Adams and her family, but as quaint as Stars Hollow and the Gilmore Girls. I loved the subtle nods to these stories by the author. I never understood why some bookish people read ebooks or listen to the audiobook and then buy a paperback. But that's how I am feeling about this. I listened to the audiobook, which was great, but I would love to keep the physical copy for a future re-read. This one is a keeper. 
---