Book Review | Beneath Cruel Fathoms | By Anela Deen
BBNYA finalist Blog Tour | TheWriteReads | Fantasy
After a violent storm destroys her ship, Isaura Johansdottir knows better than to hope she'll be rescued from Eisland's vast Failock Sea. Adrift and alone, her plans to start over lost, it's a tragic conclusion after the disastrous end of her marriage—until she's saved by Leonel, one of the merfolk, a creature long believed extinct. In repayment for her life, Leonel enlists her help to investigate the Failock's mysterious and deadly plague of squalls. But…
My thoughts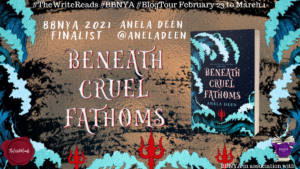 Narrative and Plot
Beneath the Cruel Fathoms is a fantasy-based Norse mythology and it carries a mysterious vibe right from the beginning. Told from the perspectives of the two main characters Isaura and Leonel, the story takes you deep into the intricacies of politics and power both in the sea and land. It stays true to its belief from the beginning to the end emphasising the fact that land and sea are inseparable.
The plot is woven carefully exposing you enough to certain characters so that we can look forward to reading about them in future stories. At the same time, it pays full attention to the story at hand which is mainly about two characters who find themselves alone and are genuinely looking for something good out there.
Characters and Conflicts
Leonel and Isaura represent that innermost urge of a human mind or rather, a mortal mind to seek companionship and value in life. Theirs isn't a life without purpose, but they're indeed looking for something deeper. It is here they become relatable and grounded as characters despite being from a completely different world.
Their conflict is beautifully romantic. Despite the chaos around them, the one thing they feared most is rejection and the loss of a genuinely earned friendship. Again a deeper conflict while dealing with the whole saving the world aspect of a fantasy. There is a perfect balance between these two kinds of conflict in the story which keeps you hooked into the story and makes you care about the characters.
Conclusion
Overall, Beneath the Cruel Fathoms has the perfect blend of a sea-based fantasy that combines magic and yet portrays the one without it as the most magnificent one. Most importantly, it shines a light on the simple fact that caring for all lives beside you which is a simple act of humanity has great value even in the grand scheme of things.  
---
I received a copy of the book for the BBNYA 2021. I was a part of the panel that read and scored this book for the same.
 The review is published in association with TheWriteReads blog tour for the BBNYA finalists 2021.