Book Review | Amari and the Night Brothers | By B B Alston
Middle Grade Fantasy | TheWriteReads Ultimate Blog Tour
Amari Peters has never stopped believing her missing brother, Quinton, is alive. Not even when the police told her otherwise, or when she got in trouble for standing up to bullies who said he was gone for good. So when she finds a ticking briefcase in his closet, containing a nomination for a summer tryout at the Bureau of Supernatural Affairs, she's certain the secretive organization holds the key to locating Quinton—if only she can…
My thoughts
Narrative and Plot
Before I say anything about the book, December has been quite a busy month for me and I don't even celebrate Christmas. This is the first review I am posting this month. That's because it is part of my commitment to the Ultimate Blog Tour. I kept pushing reading Amari thinking I had enough time until the last two days. I was afraid, I won't finish it in time but as soon as I started the book, I flew through it.
Amari and the Night Brothers has everything that an adventurous , well-paced and heartfelt middle grade fantasy requires. Of course this is not the first time a book features into a secret society like Hogwarts or Narnia. But to pull it off in such a gripping manner is definitely a feat. Amari and the Night Brothers is an unputdownable tale from start to finish.
Characters and Conflicts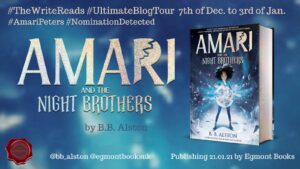 In the midst of all that fantasy and fanfare, there is this simple girl of color who comes from the poorer side of the town. She has to work harder than her peers to prove herself and to achieve the things she deserve. It is on this point that Amari and her conflicts speak to you as a reader. Basically, the idea itself is quite relatable to most.
This basic conflict is integrated beautifully in a world full of mysteries and wonders. It is easy to root for Amari. Not because she is flawless, but because she feels real. She has moments of weakness and self doubt. No one is rooting for her to be the chosen one. She decides to choose herself. She chose to be good and peaceful despite the ugliness she experienced. That's the kind of holiday cheer I was looking for and the story gave me exactly that.
Not to mention the ensemble of casts and crew that aide and abet Amari's adventures.
Conclusion
Amari and the Night Brothers is your perfect holiday read or holiday gift for that little niece or nephew who needs something to cheer them up. I am sure there's more to Amari's story and I will definitely follow this series. It is a story of self-belief and hope which you can remind yourself as an adult in case you forgot. As for a child, Amari is the energy that makes you want to explore your full potential and be whoever you want to be. 
---
This review was featured on Twinkl in their article 'Fantasy Books for Kids'
Disclosure :  1) I received an e-copy of the book from @TheWriteReads , in exchange for an honest review for #thewritereads #ultimateblogtour.  Thank you TheWriteReads, B B Alston and Egmont Books UK for making me a part of the #blogtour.
 

              2)This website uses affiliate links. This is not a paid promotion but Bookbugworld will earn a small commission if you click on the link for purchase.