WWW Wednesday | 11 Jan 2023
Dear Bookbugs,
This is my first WWW Wednesday of 2023. 
The WWW Wednesday meme was hosted by MizV at A Daily Rhythm. It is now revived by Taking a World of Words.
This is a simple meme where you have to answer the three W's of a reader's life.
What are you currently reading?
What did you recently finish reading?
What do you think you'll read next?
And then link the host's blog to your post and if possible leave a comment in theirs.
1)What are you currently reading?
Unanimity is the book I am reading for TheWriteReads blog tour. I mentioned this one in my reading plans post yesterday. This is the first book in the Spiral Worlds series. The book follows a reluctant God named Shadow. He doesn't want to be in this virtual world that he created but another young goddess brought him to life. That's all I know for now. So far, it has been interesting although there is a lot of complex worldbuilding going on. I hope I can keep up.
2)What did you recently finish reading?
I finished Such a Quiet Place by Megan Miranda just this evening. It was a compelling read, however, I have some issues with the book. I will let you know more about it in my review. This is a domestic thriller that follows this neighborhood that is situated around this lake and the University. It is basically a closed community that was supposed to be secured and safe until they find a couple dead in their house. And it doesn't help that the suspect is from the same community too. Now Ruby, the suspect has been acquitted owing to the lack of concrete evidence and she comes back to live there. That is basically the premise of the book.
3)What do you think you'll read next?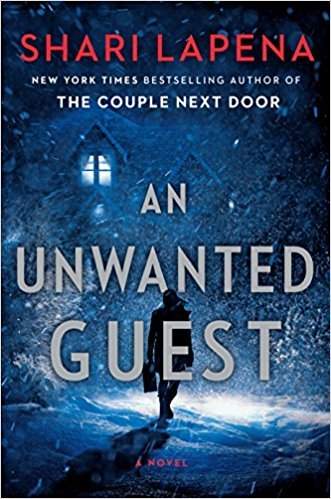 An Unwanted Guest by Shari Lapena is the next book on my list. Again, this is a closed thriller where different guests get snowed in, at a mountain lodge. But as the guests start dying one by one, they have to figure out who among them is killing them and why. 
Basically, I watched the two Knives Out mysteries during the New Year and wanted to read these kinds of closed-circuit mystery thrillers. 
Those are my weekly reading updates. I hope you enjoyed reading about them. Let me know in the comment section, what book you are reading at the moment. How do you feel about it? I would love to know that.
Happy Reading Everyone!!
---