This Won't End Well | By Camille Paga'n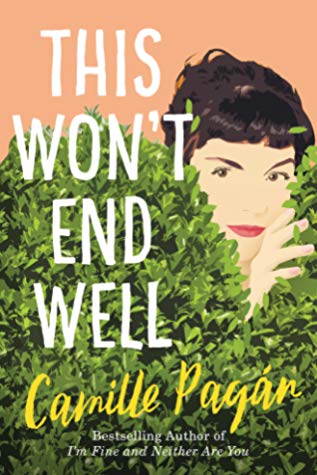 No new people: that's Annie Mercer's vow. It's bad enough that her boss sabotaged her chemistry career and her best friend tried to cure her with crystals. But after her fiancé, Jon, asks for space while he's gallivanting around Paris, Annie decides she needs space too—from everyone. Yet when Harper moves in next door, Annie can't help but train a watchful eye on the glamorous but fragile young woman. And if keeping Harper safe requires…
I received an e-ARC of This Won't End Well from #NetGalley in exchange for an honest review.
My thoughts
Narrative and Plot
This is one of the most beautiful books I've come across so far in 2020. The narrative is in first person but it is also a descriptive account of the events in the a journal entry by the protagonist, Annie Mercer. The style is different and engaging.
The plot is a bit slow in the first few chapters. And we don't exactly know where all this is going but once it picks up speed this is a page turner. It never loses its rhythm and discusses some serious issues even if maintaining a light tone throughout.
Characters and Conflicts
Annie is the central character of the story. This being a first person narrative, the other characters are a reflection of how Annie perceives them. However, since she gives an honest account and sees her own fault for what it is, it is easier to get to know the other characters. There are not a lot of bad guys in the story. And that's the thing about life. You can picture them as bad in your head ( some really are but apart from them, generally) or you can see where they come from and choose to let them live their own life even if you disagree with them.
Annie's conflict is easily relatable to most women. Anyone can feel that way about letting new people in their lives. And yet, the people who are meant to be will find a way. Only if you let them in, you will know where life takes you next. That is about the gist of the book.
Conclusion
This Won't End Well, really ended well as far as the reader is concerned. Annie has a remarkable character growth. The romance in the book is a bit subdued and you may end up wishing for more. But it is not the central story. This book is about personal growth and how you can choose to be with the people around your life.
____________________________________________