The Wrongful Death | By Kenneth B Anderson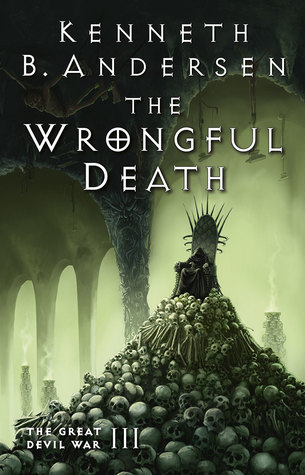 An unfortunate chain of events makes Philip responsible for the untimely death of the school bully Sam—the Devil's original choice for an heir. Philip must return to Hell to find Sam and bring him back to life, so that fate can be restored. But trouble is stirring in Lucifer's kingdom and not even Philip can imagine the strange and dark journey that awaits him. A journey that will take him through ancient underworlds and all…
The Great Philip Engel is back to Hell once again. And this time he wants to find his lost friend Sam. With each book, I am loving this series more and more. You can see the build up for the Great Devil War coming up in this book. The excitement and thrill is building up to the final act.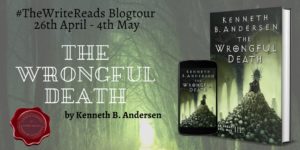 However, when it comes to the plot of this particular book, it is not my favorite book in the series. Yes, there are parts of the book that I really enjoyed but there were a few lags here and there. For some reason, I am still not emotionally invested in Philip's relationship with his father. But I am already way too invested in the overall series. So those are minor concerns at this point. The latter half of the book is a masterstroke. In the previous book, I complained the theatrics were not enough. But I got my fill here and loved it.
Characters and Conflicts
Even though, I haven't read a lot of fantasies, from my experience as you dive into the series the characters get stagnant after the first few books. Unlike that, The Great Devil War series is somehow managing to keep things interesting in each book. Philip's inner turmoils from the last book continues. And his pain and loss makes him human despite all the fantasy elements. The struggles in his mind are real and one can easily empathize with him. There is a symbolic aspect to it as well, which is commendable.
And it is not just for the main character Philip. Those around him also have their own struggles and turmoils which is evolving with each book. Be it, Lucifer, Satina and even Flux.
The conflict of the book is simple. If we go with the current trend, it can be summed up in one simple word – Extraction. The extraction of Sam. However, the conflict of the book is far from over and I can't wait to read the next one. Certain events were called back from the previous books. The web of the story telling is absolutely brilliant. If not, for the occasional lags this is a perfect read.
Conclusion
Needless to reiterate this again, but I am loving the whole Great Devil war series. Each book explores the endless world of afterlife and you're always on board with Phillip's adventures. Philip's transformation is done just with the right amount of push from Page 1 and even before, from the previous book. This is a must read if you want to keep up with the rest of the story.
I received an e-copy of the book from #TheWriteReads for the #BlogTour in exchange for an honest review.