The Testaments | By Margaret Atwood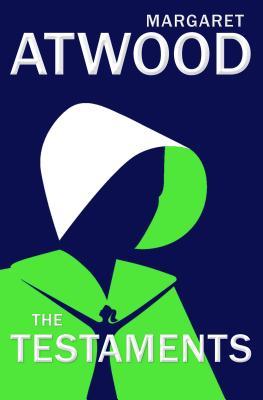 Margaret Atwood's sequel picks up the story more than fifteen years after Offred stepped into the unknown, with the explosive testaments of three female narrators from Gilead. In this brilliant sequel to The Handmaid's Tale, acclaimed author Margaret Atwood answers the questions that have tantalized readers for decades.   ( Goodreads)
My thoughts
Before we get into The Testaments, I've read The Handmaid's Tale a few years back. Naturally, some of the character names and details skipped my memory. But I watched the first season of the Hulu series recently. It jogged up my memory a bit. Now, I already thought, this would be a 5/5 read. Who am I kidding? This book won the Booker Prize. What more could my review bring. But I am making a small attempt nonetheless.
Narrative and Plot
Initially, the narrative was a bit confusing because you're not sure who is talking to you. Yes, the fourth wall style is how the narrative goes. And then you realize that these are supposed to be witness testaments. There are three narrators. Aunt Lydia, Daisy and Agnes. These are three very different women who were brought up in completely different circumstances. Yet, they had one thing in common –  Gilead.
The plot is flawless and seamless. Reading this book is an experience. The one you get when you see a maestro performing a concert live. It is masterclass. It sets the bar to the other dystopian female empowerment books bandied as such. Not all female superheroes need a badass outfit and perform adventurous stunts. The biggest superheroes are those who survive on a day to day basis despite the obstacles thrown at them.
Characters and Conflicts
Your three narrators are the main characters of this book. As the story goes deeper, each one of them grows and develops in many different ways. Aunt Lydia tells the story of how she came to be Aunt Lydia. So does Agnes Jemima and Daisy. Their lives are revealed in a parallel manner. Each incident moulds them into the person that they need to be.
While Aunt Lydia is the link to the past, belonging to a world before Gilead, Agnes represents the one who is brought up within the confines of Gilead. Daisy on the other hand represents of what it could have been without Gilead. Despite the difference in beliefs and upbringing they are all strong and resilient women. Becka is a gentle addition to Agnes' vibrant persona.
The way all of their paths cross over and how they end up achieving their common goal is a gratifying experience that you cannot express in enough words. It is similar to the expression, "you had to be there".
Conclusion
Overall, this book was everything I expected it to be. A fitting sequel to the legendary Handmaid's Tale. The Testaments is chilling, enthralling and at the same a bleak reminder as most of its events are not just mere figments of imagination. The acknowledgement section says so itself. There is nothing in the book that does not have a historical precedent. It is on that note, the book makes you think.