The Desire Card | By Lee Matthew Goldberg
(Courtesy : Goodreads)  Any wish fulfilled for the right price. That's the promise the organization behind The Desire Card gives to its elite clients - but sometimes the price may be more menacing than anyone could ever imagine. Harrison Stockton has lived an adult life of privilege and excess: a high-powered job on Wall Street fuels his fondness for alcohol and pills at the expense of a family he has no time for. Quite…
Thank You Blackthorn Book Tours for providing me with an e-copy of The Desire Card 
My thoughts
Narrative and Plot
The entire book is told from Harrision's perspective. He is our protagonist. The consequences of The Desire Card, we find out already is not good. Even so, the journey is still intriguing and twisted.
The plot was pretty straightforward. But it did bring in some surprise towards the end. The book focuses on terminal illness, disease and poverty. It surely does not make any attempt to gloss it over. The Desire Card is the ultimate hero's journey. Harrison is ripped apart from the very beginning. One after the other, his perilous journey keeps is on our edge.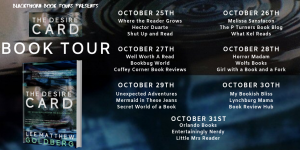 Characters and Conflict
Harrison is a royally flawed protagonist. He is a person with questionable morals. He yearns for redemption but at times it looks like he is too forgone. Just when we think that he may give up now, Harrison bounces back.  He is a resilient and stubborn man who knows how to survive. Helene, his wife, is another remarkable character. Even though her role is not that significant,you can see the layers in her personality which makes her a real person.
The conflict in the story is most prominently human greed and the extend of it. At least, that is what it appears to be on the surface. In a world full of temptations, you can either be a prey or a predator. That is what this whole rat race is all about. It touches on a lot of current world issues.
Being an Indian, I can't help but think that west always zooms in on the not so glossy parts of India. But the desire card, did mention the great class divide which is particularly evident in a city like Mumbai – the city of dreams. It does portray the poorer side of Mumbai, but the story definitely sees the other glossy version which we want the world to see in general as well. The pretty picture. But one should be able to accept the ugliness too.
Conclusion
Overall, I enjoyed this book. It brings a lot on the table. You can have hours of discussion over the topics touched by this book. The most explored topic being the Desire of human minds. If you're not grossed out by the detailed depiction of suffering and illness, then this book definitely is a good pick.
___________________________________________