Christmas Shopaholic | By Sophie Kinsella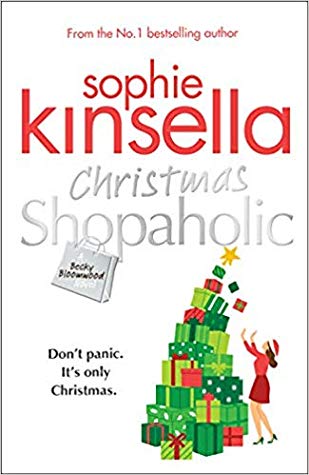 Becky Brandon (née Bloomwood) adores Christmas. It's always the same – Mum and Dad hosting, carols playing, Mum pretending she made the Christmas pudding, and the next-door neighbours coming round for sherry in their terrible festive jumpers. And now it's even easier with online bargain-shopping sites – if you spend enough you even get free delivery. Sorted! But this year looks set to be different. Unable to resist the draw of craft beer and smashed…
My thoughts
Narrative and Plot
Christmas Shopaholic is the ninth book of the Shopaholic series. The entire series is told from Becky's point of view. She is a vivacious and lovable shopaholic. The tone of this book, like any other shopaholic book, is funny and full of witty and innocent thoughts of Becky. Our shopaholic has now found the joy of online shopping.
To be very honest, the last few shopaholic books were not exactly my favorites. Not that I didn't enjoy them, but it never made me feel like going back to Becky's world after Shopaholic and Sister. This one, however will be my go to Christmas read from now on. The story is truly Becky's and at the same time contains the entire holiday spirit with modern day consumerism.
Characters and Conflicts
If you've boarded this train before, all your beloved characters are getting together for Christmas. Becky's parents, Suze, her sister Jess and Janice as well. We definitely have the striking chemistry of the adorable Luke  Brandon and Becky. Then there is Minnie who is a joy to read as always. Once again the people around Becky are coming together for a jolly ride with problems and worries of their own.
And we have Becky who is in charge of Christmas and has a plan. Obviously, Christmas is the major conflict here (and a hot tub!). It's all about how Becky tackles being the hostess of her first Christmas.
Conclusion
Overall, I enjoyed this book a lot. It was funny and made me genuinely laugh at some places. Though not as intense as Becky, the thrills of online shopping is something that I can personally relate to. In short, Christmas Shopaholic gives you a glimpse of what it feels like when you read a Sophie Kinsella book at her best.
Google Search History :
Silver Llama Bauble
Blink rage band
hygge meaning
sprygge meaning
Christmas Shopaholic Instagram posts
________________________________________________________