A Wedding in December | By Sarah Morgan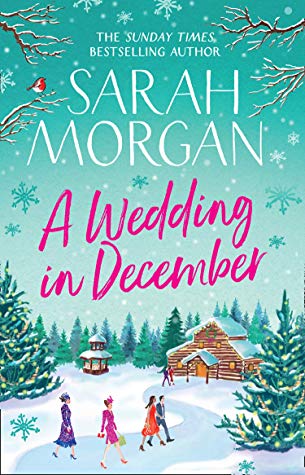 In the snowy perfection of Aspen, the White family gathers for youngest daughter Rosie's whirlwind Christmas wedding. First to arrive are the bride's parents, Maggie and Nick. Their daughter's marriage is a milestone they are determined to celebrate wholeheartedly, but they are hiding a huge secret about their own: they are on the brink of divorce. After living apart for the last six months, the last thing they need is to be trapped together in…
My thoughts
Narrative and Plot
A Wedding in December is your warm and cozy holiday read for 2019. But it is not just some fluffy holiday plot. Told from the perspective of the women in the White family – Maggie and her daughters Katie and Rosie, the story deals with the life of these women around the holiday.
The plot is very straightforward. When Rosie calls home announcing a surprise Christmas wedding, her sister Katie has only one goal in mind – to stop Rosie from making a mistake. Maggie their mother is torn because of her own life. It's your typical holiday where secrets  unfold and drama ensues.
Characters and Conflicts
One thing I love about holiday reads is that they don't generally have an evil mastermind. This story does not have an outright villain and I enjoy that now and then. Because your main characters flaw can be their biggest antagonist. Sometimes learning to face your own self can be the biggest conflict.
This book is all about family, relationship and finding yourself amidst all that. The sisterly bond in the story is something that I can personally relate to in the book. The family home, Christmas memories, weddings and vacations – this story has something that would tug some of your fond memories.
Katie started off as a bit obsessed but somehow it is acknowledged in the latter half. However, the romance in the story was too fast for my liking. It didn't take much time to develop if you ask me. But I get it. You don't want to drag the story a lot and there are too many things to tell.
Conclusion
Overall, this is a perfect holiday book to cozy up with. I have never seen snow in my life. So books like these are my main gateway to a White Christmas. The Aspen setting itself is a major draw to get into the feel of the winter and Christmas. I enjoyed reading it and would say it is a worthy pick for a holiday.
___________________________________________________