Book Review | The Beast and the Bethany | By Jack Meggitt-Philips
TheWriteReads | UltimateBlogTour | Middle Grade Fantasy
Lemony Snicket meets Roald Dahl in this riotously funny, deliciously macabre, and highly illustrated tale of a hungry beast, a vain immortal man, and a not-so-charming little girl who doesn't know she's about to be eaten. Beauty comes at a price. And no one knows that better than Ebenezer Tweezer, who has stayed beautiful for 511 years. How, you may wonder? Ebenezer simply has to feed the beast in the attic of his mansion. In…
My

thou

ghts
Narrative and Plot
The Beast and the Bethany is certainly a fun twist to the age old fairy tale. The narrative is engaging, witty and charming that you could read it just like a wide eyed child brimming with curiosity. Although, coming to think about it, the book is pretty violent for a middle grade fantasy. Well, most fairy tales are anyway.
The plot is woven around Ebenezer , Bethany and the Beast. Everything comes a full circle by the end of the story. Yet, it leaves enough to get your interest piqued for the sequel. And yes, there is a sequel coming soon.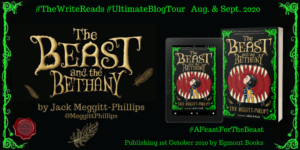 Characters and Conflicts
Even though, the book is short, the Beast and the Bethany has well rounded characters that you immediately care for and root for. The illustrations are fun too particularly if you have a hardcopy. Unfortunately, I didn't.  Still, the illustrations confirmed my vivid imaginations much to my delight.
Ebenezer and Bethany kind of start as annoying characters. Ebenezer more than Bethany on that regard. But it is heartwarming to see their development and how they form a friendship. Even Geoffrey – the passive character makes an impact in the book which is the sign of great storytelling. The conflict was dealt swiftly with the necessary drama that was just the right amount.
The metaphor in the book is deep and makes you think as an adult. You can only raise the beast that you feed, in the end.
Conclusion
Middle grade fantasy is a genre that's been surprising me ever since I started blogging. The Beast and the Bethany is yet another happy addition to that list. If you're open to reading a fun , charming and imaginative retelling of the Beauty and the Beast, this is a must read.
---
Disclosure :  1) I received an e-copy of the book from @TheWriteReads in exchange for an honest review for #thewritereads #ultimateblogtour.  Thank you TheWriteReads, Egmont Publishing and Jack Meggitt-Philips for the opportunity.

              2)This website uses affiliate links. This is not a paid promotion but Bookbugworld will earn a small commission if you click on the link for purchase.