Scareground | By Angela Kecojevic
Book Review | Middle Grade Fantasy | TheWriteReads Blog Tour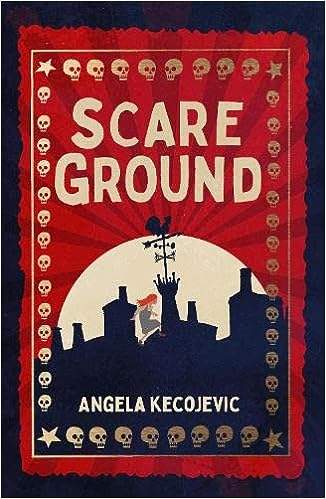 Synopsis : 
Roll up, roll up, the Scareground is in town!

Twelve-year-old Nancy Crumpet lives above a bakery and her life is a delightful mix of flour, salt, and love.

Yet her mind is brimming with questions no one can answer: Why did her birth parents disappear? Why can she speak with the sky? And why must she keep her mysterious birthmark hidden?

Everything changes when the Scareground returns to Greenwich. When Nancy and her best friend meet the fair's spooky owner, Skelter, and discover a world full of dark magic and mystery, she must confront her greatest fears to get to the truth. But is Nancy ready for the secrets the Scareground will reveal?
My thoughts

Narrative and Plot
Like most middle-grade novels, we follow our young protagonist Nancy who likes adventures and the sky but is raised in a baker's family. She wants more from her life but isn't sure about herself. Even though Nancy is a kid, even adults can relate to these emotions. Which is why, it is easy to root for her.
The whole plot is about Nancy finding out about herself with her friend Adam. However, one cannot miss the obvious symbolism which is all about conquering your fears. One cannot let themselves consumed by scareground. Instead, you need hope and a support system to conquer your worst fears.
Characters and Conflicts
Nancy and Adam are the core characters of the story. Their friendship forms the much-needed heart in the book.
As the story progresses, you can see their character arc. While the Crumpets are warm, loving, and soothing like freshly baked bread, the fair is mysterious and sinister. The juxtaposition of these two worlds and its impact on Nancy is the key that makes you want to read more.
The ensemble cast was good although, some of the characters were introduced too late into the story. It was hard to get into those relationships as they didn't have enough page time.
Also, the final act was a bit underwhelming. While some might enjoy the subversion of expectations, I am always a fan of a mighty antagonist. All that hype was quickly done away with as they brought in the final twist. While the epilogue has all my interest, the finale took me by surprise.
Conclusion
Overall, I enjoyed reading Scareground. With its sinister and haunted theme, it had my interest from page one. I would love to continue reading more about Nancy and her adventures.
---
I received an e-ARC of the book from NetGalley in exchange for an honest review for TheWriteReads blog tour.