BBNYA Semifinalist Spotlight Tour | 11 Dec 2022
Dear Bookbugs,
This year, the Book Blogger's Novel of the Year Award (BBNYA) is celebrating the 50
books that made it into Round Two with a mini spotlight blitz tour for each title.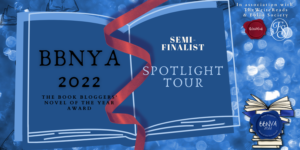 I am trying my best to be a part of this spotlight blitz. Today's BBNYA semifinalist spotlight features the book named 'Skate The Thief' by Jeff Ayers.
Blurb :
Beware of Spilling Ink!

Skate is a thief, trained and owned by the local crime syndicate, the Ink. When she tries to burgle a shut-in's home, she gets caught by the owner—a powerful undead wizard. He makes a deal with her: "borrow" books from other wizards in return for a place to stay.

Caught between her growing fondness for the wizard and her past with the crime syndicate, Skate doesn't know where her loyalties lie. But she'd better figure it out, because there's a new player in town, one whose magical hypnotism puts them all at risk.
About the Author :
Jeff Ayers is an author and avid reader of fantasy and science fiction stories. He began playing with the idea of writing a book way back in middle school, and has been practicing ever since. He is an English teacher living in northwest Arkansas (Go, Razorbacks!) with his wife, two kids, and two dogs, whom he loves very dearly.
If you are interested in this young adult fantasy, give it a try. You can find it on all the popular online platforms.
Amazon: https://www.amazon.ca/Skate-Thief-Bone-Chronicles-Book-ebook/dp/B089KBL4C8 (Canada)
https://www.amazon.com/Skate-Thief-Bone-Chronicles-Book-ebook/dp/B089KBL4C8/ (USA)
https://www.amazon.co.uk/Skate-Thief-Bone-Chronicles-Book-ebook/dp/B089KBL4C8/ (UK)
Goodreads: https://www.goodreads.com/book/show/52773232-skate-the-thief
Happy Reading Everyone!!
---