The Promise of Summer | By Bella Osborne
Book Review | NetGalley E-Arc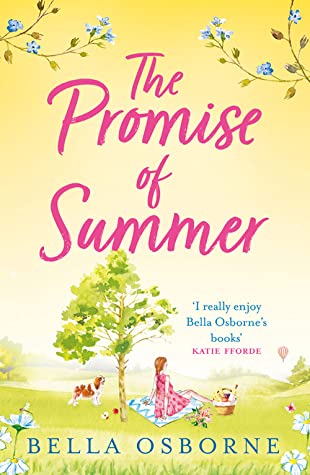 Ruby's life is about to change for ever… After years of dating losers, cheats and one guy who did something unrepeatable to her kettle, Ruby has all but given up on romance. But then a stranger sits next to her on a train to London and explains his plan to propose to the woman of his dreams. Maybe true love does exist after all? When the man accidentally leaves the engagement ring behind, Ruby is determined to save the day. But she hasn't counted on fellow passenger Curtis…
My thoughts 
Narrative and Plot 
The Promise of Summer is the kind of book that delivers exactly what it promises. Ha, that's a pun!! Seriously though, it gives you that warm and fuzzy feeling of a pleasant summer day. The plot is pretty simple. Two women in search of their happily ever afters.
However, the story embodies a charm that comes along with an old school rom-com. I loved it for all the pleasant treats it offered me – flowers, chemistry, dogs and of course, the love story.
Characters and Conflicts
Of all the characters, Curtis remained my favorite and understandably so. Him and Ruby had an amazing friendship and an adorable chemistry which makes you crave for more. Adrian and Kim too had a playful yet enjoyable relationship which was kind of unexpected because they were supposed to be the matured couple.
The book gives me a classic Sophie Kinsella or Jill Mansell vibe with its characters and their lives. To top it, the book even gives a nod by mentioning Jill Mansell.
The only thing that I could point out is that the conflict didn't exactly elevate the story. It was set up in such an elaborate manner that you saw what was coming. And the pay off later wasn't as satisfying as the set up.
Conclusion
Overall, The Promise of Summer is quite an enjoyable romantic tale. If you're looking for a feel good summer beachy book, just to go back in time for the summery warmth, this is the one you want to pick. 
---
I received an e-Arc of the book from NetGalley in exchange for an honest review.