When Life Gives You Lemons | By Fiona Gibson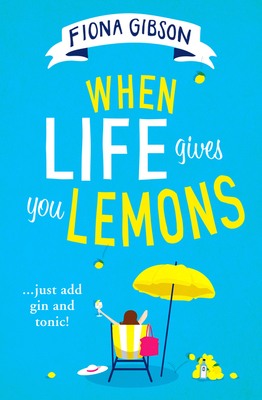 Between tending to the whims of her seven-year-old and the demands of her boss, Viv barely gets a moment to herself. It's not quite the life she wanted, but she hasn't run screaming for the hills yet. But then Viv's husband Andy makes his mid-life crisis her problem. He's having an affair with his (infuriatingly age-appropriate) colleague, a woman who – unlike Viv – doesn't put on weight when she so much as glances at a cream cake. Viv…
I received an e-ARC from NetGalley in exchange for an honest review
My thoughts
Narrative and Plot
When Life Gives You Lemons is entirely told in a first person's view, by the main character Viv herself.  Witty and self-deprecating, her tone settles you into the story with an ease and comfort right from the beginning. With effortless charm, Viv paints a clear picture of other important characters around her which is sometimes a problem with first person narratives.
This is mainly a character based story. It starts from how Viv is embarrassed about where she is at life and has a decent arc by the end where she is comfortable being herself.
Characters and Conflicts
The synopsis never mentions that Viv is in her fifties, which is a surprise when you start the book. But she is definitely a relatable character to most women. Menopause is an important topic in the story. This is a good thing because from where I come from, lots of people are still unaware about the issues that come along with it. The more it gets talked about, the better. Izzy, Viv's daughter is an adorable child. And even Ludo makes a good impression. The friendship between Viv and Penny is heartwarming.
The story doesn't make the changes abruptly. It takes small steps throughout when Viv's character develops further. There are times when certain events feel a bit too stretched. Most of them comes back and is justified at some point. All the ensemble characters contribute further to the story. There is a subtle romance and I really appreciate how it doesn't take centre stage. This is all about Viv and how she reacts to the sour lemons that surely gets thrown at her.
Conclusion
In short, I expected this book to be a fun, light read and that is exactly what it turns out to be. There's is this undeniable charm and simplicity to it. If not for a few drags and stretches here and there, this is almost a perfect read. This story goes out to all women who think it's a bit too late or they can't take risks anymore. It gives hope that one can turn their life around at any stage , if they truly desire that.  
_____________________________________________________